Communications upgrade targeted for $12.4 million
Leavenworth County Commissioners, on Thursday, approved various change orders and an official amount for the planned countywide communications upgrade - $12.405 million - that was forwarded to the Kansas Department of Transportation Friday so financing could be initiated for the project on the state level.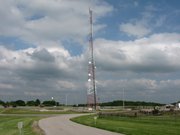 The communications upgrade, which will allow direct communication between all emergency service providers throughout the county and with neighboring municipalities, is to be financed through a state bond administered by KDOT, with payments coming from the county in the form of a lease-purchase agreement that will ultimately be reimbursed out of the county's portion of the 1-cent sales tax that runs through 2016.
County Counselor David Van Parys, who, along with county administrator Heather Morgan, emergency management director Chuck Magaha and Tom Lynch, the county's consultant for the project, met with the board Thursday, told commissioners the $12.4 million price tag was a greatly reduced figure from a $23 million proposal that was brought before the board in April 2007 by representatives with Motorola, the communications provider for the entire project.
Van Parys said that after an "exhaustive review process" from county staff, "You (the county) are not paying more money, but you're getting a much better system."
The entire upgrade includes the purchase of a new, digital "microwave" equipment that will replace the over 30-year-old analog system on seven communications tower in the area as well as new radios and dispatch equipment for local law enforcement, fire protection, emergency medical services, hospitals and other emergency service providers countywide.
The largest change order for the project approved Thursday was a $433,299 expenditure for the addition of backup equipment should the system's hub (located near the intersection of Eisenhower and Bauserman roads) be damaged.
Morgan noted that a backup tower was deemed necessary after the construction of a tower in Shawnee - amounting to approximately $873,000 - was removed from the project.
Other approved change orders included a $46,287 addition for technical training for staff and an added $267,940 for a portable, "communications site on wheels" system.
Cities throughout Leavenworth, if they decide to migrate to the new system, would most likely pay for new radios out of their portion of the 1-cent sales tax, but county commissioners said it is yet to be determined how townships would purchase radio equipment, whether that would be funded through the county at-large or through a grant from the U.S. Fire Administration that could translate into roughly $779,000 with up to a 10 percent match from the county.
According to Magaha, notifications of rewards for the "highly competitive grant" would not come until October 2008.
Townships and township fire departments do not receive any funding from the 1-cent sales tax.
In other business Thursday, the board:
¢ Voted, 3-0, to proceed with condemnation hearings for three affected properties near County Bridge E-45, which connects County Road 13 north of Easton, and is scheduled for replacement using up to $799,000 in federal grant funding.
Property owner Eric McMillin said, "I don't think any of us oppose or think anything other than the bridge needs to be replaced," but he asked commissioners to fund a redesign of the bridge that would lead to less destruction of old-growth trees in the area, less farmland taken from his neighbors and less devaluation of his property.
1st District Commissioner J.C. Tellefson, who noted that E-45 is the primary route out of Easton when Kansas Highway 192 floods, said, "We (the commission) run a significant risk of jeopardizing federal funding if we redesign."
Van Parys added that designs for the bridge could be negotiated as imminent domain hearings progress.
¢ Discussed implementing a wellness program for county employees, although no action was taken.
¢ Denied, 2-0, with Commissioner Dean Oroke abstaining, a request from Bob Conley, the developer of Rocking C Equestrian Estates south of Evans Road and 253rd Street, to waive approximately $47,000 in improvements to Evans Road.
¢ Approved, 3-0, the purchase of a 12-passenger van for the county sheriff's office from Danny Zeck Ford at approximately $22,200 after depreciation.
¢ Approved, 3-0, the purchase of five large-diameter aluminized culverts from Salina-based Welborn Sales Inc. at $21,400.
¢ Approved, 3-0, a 10-year special use permit for an overhead door business submitted by David and Cynthia Cleavinger, 17770 Michals Rd.
¢ Approved, 3-0, a special use permit for an ornamental iron shop owned by Hubert and Barbara Lamprecht at 19050 Green Rd.
¢ Approved, 2-1, with Tellefson opposed, a special use permit for auto sales at 17124 Morning Deer Rd.
¢ Met in three separate executive sessions totaling 1 hour and 22 minutes to discuss personnel.