Lightning shock sends woman to hospital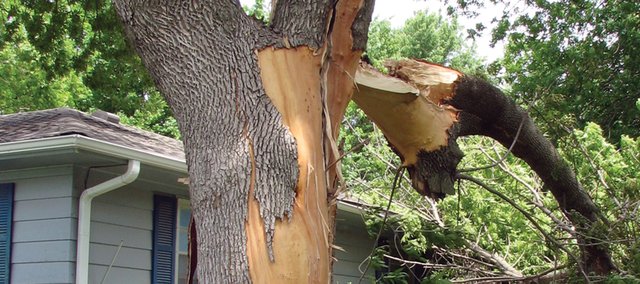 A Basehor woman is recuperating after receiving a shock from a nearby lightning strike Monday morning.
Katie Mather, 34, said she was washing dishes at her kitchen sink near the back of her house on Klamm Street when she saw lightning strike the metal clothesline pole in her back yard.
"I saw an explosion in the back," she said. "There were sparks and the pole kind of glowed for a second. Everybody in town heard the explosion."
Mather's mother, who lives across the street, witnessed the lightning strike as well, but saw it simultaneously hit the clothesline pole and a tree in the Mathers' front yard.
Mather said she was immediately shaken by the shock and ran into the living room to alert her husband, Keith, and daughter, Kaylee, 10. Some of her immediate symptoms included numbness on the right side of her body, ringing in her ears and an overall feeling of panic.
"I was shaking all over and crying," she said. "I was stuttering so bad that I couldn't get any words out. That was scary to hear myself talk. In my mind I knew something was wrong, but I couldn't get the words out."
After being transported to Shawnee Mission Medical Center, Mather said doctors told her they did not find evidence of injury commonly seen in lightning-strike victims, such as entry or exit wounds or a change in heart rhythms. They said she was not actually struck by lightning, but received a residual shock from the outside strike and the current from the strike most likely traveled into the home through the water pipes.
Gil Hoag, a co-op observer for the National Weather Service, said he has heard of this happening before and the National Oceanic and Atmospheric Administration's National Weather Service Web site states that staying indoors while there is lightning outside may not be enough. People should stay away from anything that could serve as a conductor, such as appliances, telephones with cords, and plumbing, including plastic pipes.
Statistics on the Web site show that an average of 62 people in the United States are killed by lightning each year and hundreds of others are injured. Those struck may also be affected by long-term symptoms including numbness, dizziness and memory loss.
Mather said she is doing OK despite a headache and a bit of lingering ringing in her ears, and considers herself lucky.
"I didn't actually get struck by lightning, thank God," she said.
The Mather's home sustained minimal damage. While the lightning strike initially left the tree in the front yard standing, the force of the strike blasted the bark off the tree several feet in all directions and a large limb later broke off, just missing the house. Mather said a tree service was expected to come remove the tree sometime Tuesday afternoon.