BLSA

hands out first scholarships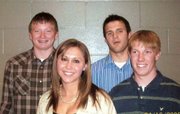 Four Basehor-Linwood High School seniors were recipients of the first scholarships given away by the Basehor-Linwood Soccer Association.
Each scholarship was worth $500. The recipients were soccer stars Matt Murrell, Sam Seaman, Ryan Sirridge and Shanna Couch.
"It feels wonderful that we were able to come up with the money that we did and give them to kids to continue their love of education and soccer," BLSA president Susan Murrell said.
BLSA funded the scholarships through members working at Verizon Wireless Amphitheater and Kansas City Wizards games. Murrell said the group would continue to work at those venues to support the organization.
The recipients were chosen by a committee using a formula to deduce on-field accomplishments and weighing it with an essay the players submitted.
Couch and Sirridge will attend Johnson County Community College, Seaman will attend Point Loma Nazarene University in California and Murrell is headed to Northeastern State in Oklahoma.
"I think it is a great thing," BLHS soccer coach Kevin Vincent said. "The fact that they give scholarships is wonderful. It helps recognize the students that have participated in soccer and been in the high school. It rewards hard work and dedication. For someone to recognize their hard work is a great thing."
BLSA formed a year ago with a mission statement: "To promote the game of soccer, to be an information resource for parents and to provide opportunities for soccer skills development to all ages of youth throughout the Basehor-Linwood community."
It appears to be doing just that. In addition to the scholarships, the organization is offering Micro Soccer to four- and five-year-olds to introduce them to the game of soccer. The program lasts six weeks and is put on by the Kansas Rush Soccer Club. Fifteen kids have been attending.
"It has been a great success," Murrell said. "I feel there is a strong need for more soccer events in our community. At every event, someone always ask me if we are starting leagues in our community, and I let them know that is a long-term goal for our organization."
BLSA will again provide a summer camp, open to kids in kindergarten through eighth grade. It will last from 9 a.m. to 1 p.m. from July 14-18. It will be coached by the Kansas Rush Soccer Club and assisted by the high school Bobcat soccer players. Information is available at usd458.org.
Murrell said long-term goals included launching a Web site and expanding.
"Our whole goal is to get soccer in our community," Murrell said. "I don't understand why you have to go outside our community for soccer. There is a need for it in our community."
BLSA will play host to a Soccer Fest starting Aug. 9 with a grand opening on the new soccer field.
"Anything that promotes soccer in the area is great," Vincent said. "They try to do it for all ages and provide opportunities to play soccer. It gives younger kids an opportunity as they go through middle school and up until high school to play at a high level."