Bobcats seek progress during summer season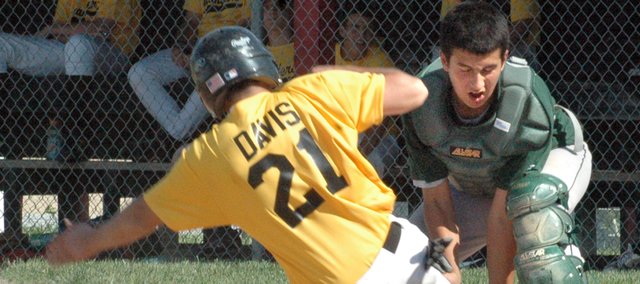 Fresh off a season where a youthful Basehor-Linwood High School baseball team made a four-win improvement over last year, the Bobcats wasted no time diving into a challenging summer season of American Legion baseball.
They opened the season on Saturday and Sunday at the inaugural Battle of Leavenworth County Baseball Tournament at Lansing High School.
A tough pool of opponents - the Leavenworth Legends, Easton Outlaws, Lansing Cavalry and Tonganoxie Chieftains - proved to be too powerful for the Bobcats as they posted an 0-4 record.
Lansing won the tournament with a 4-0 record.
Bobcats coach Dave Svoboda hoped for a better showing, but he said the struggles weren't a total surprise. After all, they weren't at full strength at any point during the tournament.
"It's actually two groups in one," he said, noting that the program's 18-and-under and 16-and-under summer squads were mixed for the weekend. "We combined them because we had so many guys involved in summer basketball. I was gone (some of the time) at football came, and we had six guys that were at football camp. That's the way it'll be throughout the summer for us."
Tonganoxie defeated Basehor on Friday morning, 11-0. Later that night the Bobcats fell to Lansing, 11-1. Then came a 15-6 loss to Easton on Saturday morning, followed by a 10-0 setback to Leavenworth in the final game.
The Bobcats mustered just four hits against Tonganoxie, but their bats warmed as the tournament went on.
For the remainder of the summer, the Bobcats will try to keep their 18s and 16s separated while playing in the Johnson County 3&2 league. Svoboda admits that his players will have their hands full every time out when they play on Tuesdays and Wednesdays - but that's OK with him.
"Playing over there in the Johnson County 3&2 league against the best Johnson County's got to offer, we'll be playing out of classification against 5A and 6A schools (Basehor is Class 4A)," Svoboda said. "We may take our lumps record-wise, but individual skill improvement is what we're after in the summer."
Svoboda is hoping to use the summer season to find replacements at catcher, first base, third base and the outfield corners, where he will be losing some key seniors.
"The growth is the measure (of improvement)," he said. "The win-loss record isn't necessarily the measure, the batting averages aren't necessarily going to be the measure, it's can we figure out who needs to play where and whether a kid has grown enough to play at the varsity level."