Commissioners nix bridge plans' redesign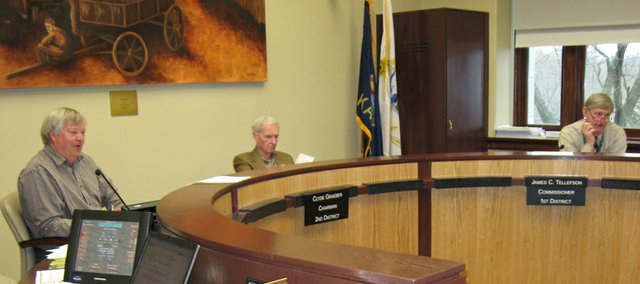 Despite landowners' protests, Leavenworth County Commissioners will not pay to redesign plans for the replacement of County Bridge E-45, which connects County Road 13 in northwest Leavenworth County and is the primary route in and out of Easton when Kansas Highway 192 floods.
"We're putting the project in jeopardy by looking at re-engineering," Commissioner J.C. Tellefson said at a commission meeting Thursday.
Under the bridge replacement, which would use up to $800,000 in federal grant funding with a 5 percent match from the county, 2.66 acres of farmland and old-growth trees would be condemned on three parcels surrounding the bridge.
Tellefson said the time and estimated $5,000 it would take for engineers with Delich, Roth & Goodwillie, P.A. Engineers to redesign E-45 would not be worth the risk of losing federal funding.
Property owner Eric McMillin, who spoke at a commission meeting May 29, had told commissioners he objected to the project because of environmental and livelihood concerns.
But assistant director of public works, Mickey Swartzkopf said, after speaking with DRG representatives, that any change in design would "cause instability on the slope and won't be able to hold the riprap that is there."
Tellefson said the most land that could be saved would be five linear feet of county right-of-way.
A motion to proceed with the design standard as developed by DRG for "the best interest of Leavenworth County" was unanimously approved.
In other business, the board:
¢ Met with Leavenworth County Senior Services director Scott Brezgiel and Council on Aging head Linda Lobb to draft a new lease agreement for the two agencies, which share a building at 109 Delaware St. in downtown Leavenworth.
The current, three-year agreement stipulates a base payment of $2,970 per month from senior services - not a county-run department - with a 3 percent yearly increase, but Brezgiel contended the agency should not be subject to an additional $554 per month charge for utilities.
Commissioners tabled the issue for further review.
¢ Approved, 3-0, the final plat for McClure Estates, a two-lot subdivision, 25-acre subdivision lying three-quarters of a mile southwest of the intersection of Eisenhower and New Lawrence roads.
¢ Unanimously approved authorizing the commission to restructure the county Board of Zoning Appeals by way of a board order and in compliance with state statute.
The county BZA is to be composed of the seven most senior members of the county planning commission.
Planning and zoning director Chris Dunn said the action would "take the gray areas out" of the zoning appeal process for residents.
¢ Met in executive for five minutes with Dunn and county administrator Heather Morgan to discuss potential litigation.
¢ Met in executive session for one hour with chief district judge David King, court administrator Steve Crossland and sheriff David Zoellner to discuss courthouse security.