Officer takes action while off duty
Welsh receives award for actions taken while driving on U.S. 24-40
Police officers often are called on to save lives in the line of duty, but it was a Lawrence officer's off-duty actions that earned him a statewide honor.
Jim Welsh, 28, a six-year veteran of the Lawrence Police Department, received the Silver Award from the Kansas Association of Chiefs of Police for his life-saving actions in May 2007.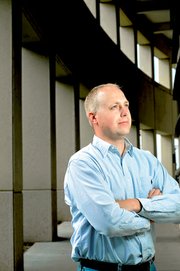 Welsh was driving on U.S. Highway 24-40 in Leavenworth County when a speeding motorcyclist passed him. Welsh said he saw the motorcycle strike another car, throwing the rider nearly 400 feet down the road.
Welsh was off-duty, but that didn't keep him from springing into action.
"I didn't think about it. It was just something you react to," he said. "My immediate concern was the amount of blood he was losing and trying to keep him straight."
The 19-year-old motorcyclist's arm was nearly severed, but Welsh's quick thinking may have saved the man's life. With the help of his father, Lake Quivira Police Chief Burdel Welsh, the two used a blood pressure cuff as a tourniquet.
"During our first responder training that was one of the things our instructor mentioned," Jim Welsh said. "My dad had a full kit with him. You just pump it up real tight, and it works very well."
Welsh accepted the award last week in Wichita in front of about 400 people at the 2008 Joint Kansas Law Enforcement Conference.
He was one of 56 officers honored for heroic actions in 2007, and it's a moment he won't soon forget.
"Most certainly it stands out," he said. "It was one of the few times I've had a direct impact on whether somebody lives or dies, so it's something I'll remember forever."