Mission trip takes residents to Africa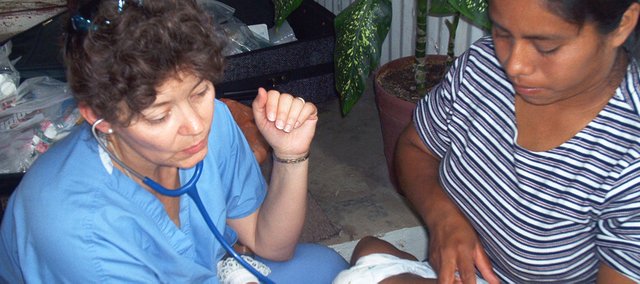 Two Bonner Springs women will be spend more than two weeks in an exotic, faraway locale beginning next week.
But LeAnne DeTar Newbert and her mother, Margaret Stephens, won't be on vacation. They'll be helping rural Kenyans with a variety of medical conditions, as part of a Mercy and Truth medical mission near the town of Mombasa.
Detar Newbert, a family-practice physician at Living Water Family Care in Kansas City, Kan., is chair of the board and medical director for Mercy and Truth. She went on a similar mission last year and saw a disease most people have only encountered in the Bible.
"The last time I was there I saw some leprosy," DeTar Newbert said.
But the most prevalent condition DeTar Newbert treated on her mission there last year was malnutrition. After that came waterborne parasites and malaria, she said.
Accompanying the mother and daughter will be an emergency-room physician, four registered nurses, which DeTar Newbert described as "really seasoned," two students starting medical school in the fall, an RN student and another layperson besides Stephens.
Respect the culture
To prepare, the team will have to be immunized for malaria, typhoid and yellow fever, and meet to learn about and discuss the culture they'll be living in for two weeks.
Although it will be hot, the mission crew will mostly wear scrubs, DeTar Newbert said, in part to respect the culture by dressing modestly and also to use as much of their allowed luggage weight for medicine.
In addition to malnutrition and parasites, DeTar Newbert said she saw on her previous trip "lots of HIV and AIDS," though the government does have a program for treating those with the condition.
"The problem is, people don't say when they're positive," DeTar Newbert said, only that they've got a "bad medical history."
After elections in December, violence broke out in the country.
"It's going to be interesting to see how the political climate is," DeTar Newbert said. "Generally we're out in the villages : We are careful."
DeTar Newbert said there was "lots of unrest" in Kenya.
"They have some 40 tribes," she said, "but the tribal identity isn't important until they have elections."
Looking forward
Still, DeTar Newbert's mom is looking forward to the experience.
"I'd been wanting to go on a trip with her," Stephens said. "When she was there a year ago, she said, 'Mom, there's an 84 year-old woman here and she's doing great, and I'm looking for jobs for you.'"
While not a typical 80-year-old - Stephens works out most mornings at the YMCA for more than an hour - what made her decide to go on the trip was a common enough sentiment.
"I like helping others," Stephens said. "I do a lot of volunteer work. I just wanted to do it."
The Kenya experience won't be anything like her work for the Eagles Lodge, though.
"Yeah, I think it'll be an adventure all right, maybe a learning experience," Stephens said. "I'm looking forward to it. I'll get to spend a couple weeks with my daughter and I don't get to spend much time with her."
The farthest from home Stephens has been is Hawaii.
"I don't know what I'm getting into," she said.
Greensburg experience
This will be the first overseas mission for Stephens, but not her first mission ever. This spring, she went with her daughter and granddaughter Jordan DeTar Newbert to help rebuild Greensburg.
Both Stephens and her daughter went on a five-day building mission in Greensburg this April through the First Christian Church of Bonner Springs.
"I did everything; I picked up trash, pulled out a few nails, even one day I handed a nail gun to a guy on a ladder," Stephens said.
DeTer Newbert said the mission was part of a six-week "building blitz."
The doctor had gone to Greensburg shortly after the May 4, 2007, tornado as part of the Heart to Heart Mobile Medical Unit from Olathe.
For the trip to Kenya, each member raised money on their own to cover their expenses.
On her previous mission trip to Kenya, DeTar Newbert's group gave money to a local pastor so his wife could give birth in a private hospital. DeTar Newbert received an e-mail after she was back in the United States that they named their newborn daughter LeAnne, after her.
"I've delivered lots of babies, but that's the first one I've had named after me," she said.