Residents honor
U.S.

with daily flag display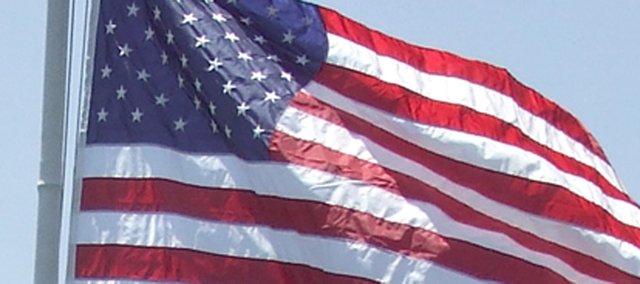 Flag Day is observed annually across the nation each June 14 - Saturday this year - but Cliff Gallagher and other Bonner Springs residents celebrate Flag Day every day of the year.
The reason Gallagher flies his American flag year-round is simple: "Because I'm an American," he said.
Gallagher, who lives at 2330 138th St., has had a flagpole in his yard for as long as he can remember. As a Korean War veteran, he said the flag reminds him of the service he paid to his country.
"I fought for this thing," he said of the United States and its flag, "and I think you should fly the flag if you can."
Atop Gallagher's flagpole is a bald eagle, another of the country's important symbols. He said he wanted to put the pole, which is lighted at night, in the front yard of his property on a prominent corner that could be seen by many.
Tuesday, Gallagher purchased a new flag and he and his wife, Jeannine, raised it to the top. Once the flag was as high as possible Gallagher looked up, pointed to the flag and said, "That's freedom. That's what this is all about."
While Gallagher spoke of his pride and service for the flag, Jeannine Gallagher had another reason for keeping the flag raised 24 hours a day, seven days a week: "It's beautiful," she said.
Another Bonner Springs resident who flies the American flag on a regular basis is Gene McGraw. About 30 years ago, McGraw put a flagpole in his back yard and has been flying the flag every day ever since.
For most of his life, McGraw said the American flag has been a constant symbol in his family. His father was a World War I veteran and he was a World War II veteran. His brother, Daniel E. McGraw, fought and was killed in the Korean War and is now memorialized as part of the Bonner Springs Olsen-McGraw-Thompson-Goins Veterans of Foreign Wars Post 6401 namesake.
"Well, being a veteran we always like to have a flag," McGraw said. "The flag is an important symbol for the veterans."
He said he liked seeing the flag every day because it makes him think about everyone connected to it. From the fellow soldiers who fought and survived, to those that weren't as lucky, McGraw said the flag was a symbol that kindled a lot of feelings in him.
So much so that about six weeks ago, he was responsible for bringing a flag to fly full-time at the South Park flagpole. The VFW had been flying a flag on the pole on special occasions, but McGraw said he wanted to see one there all the time.
He donated the flag and got the pole moved closer to the concession stand, rather than near the entrance road.
"Well we thought it'd be neat to have (a flag) there all the time," he said. "(Veterans) play horseshoes every Tuesday there, and we wanted a flag up all the time."