Still the best
After 28 years, Bonner Springs relay team's state record stands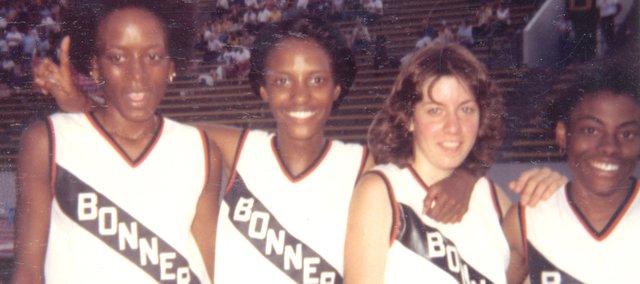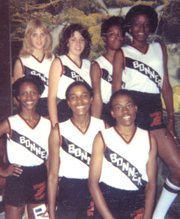 There was a lot going on May 24, 1980.
"The Empire Strikes Back" had just been released in movie theaters. The Kansas City Royals took over first place in the American League West Division for the first time all season - a spot that they would not relinquish on the way to their first pennant in October. Blondie's catchy "Call Me" was enjoying an extended run at the top of the pop-music charts. And an enormous volcanic ash cloud was fast approaching Europe after Mt. St. Helens blew its top six days prior, killing 57 people in the Pacific Northwest.
Bonner Springs also had something historic happen on that day - the Bonner Springs High School girls track team, composed of seven determined girls, took home the Class 5A state championship in Wichita.
The team was led by the state record-setting, and still record-holding, 1,600-meter relay team composed of Cheryl Chambers, Nina Kimbrough, Carol McGraw and Viesta Suffren. Their time of 3 minutes, 56.94 seconds has been approached by a few teams over the past 28 years, but none have come closer than a couple of seconds, an eternity in track. Carol's father Gene McGraw keeps a close eye on this record every year, as does Bonner sports historian Jim Finley.
Carol Farnsworth (McGraw) reflects on that day often, remembering the smallest of details.
"There was just something in the air that day. It was a buzz of sorts : an energy," she said. "We just knew we could win. The pressure was on us. Can you imagine trying to keep the emotions of four young girls in check?"
She says that at times she smells a familiar scent in the air that takes her back to the day of competition and remembers the run very clearly.
"There was something special about that race," she said. "I could hear the breath of the other runners over the screaming crowd. We were just running so fast. I think it was just pure nervous energy that we burned."
The relay team was indeed the favorite that day over Ottawa, their rivals and closest competition, but it came as a shock to many that BSHS was able to win the entire meet with a team so small in their number of participants.
In addition to the relay record-holders, other state team members were Chris Seaton, Jonetta Kimbrough and Diane Sanders. They were coached by Jill Mullens.
The Bravettes won the Bishop Ward, Blue Valley and Olathe Invitationals before winning the East Kansas League and regional titles. State should have been a foregone conclusion.
Despite the success of their season, the small team was still plagued by doubters. In the face of their critics, the Bravettes scored 70 points by winning four events and placing second in three others on their way to locking up the first, and only, girls state track championship in school history. Ottawa finished a distant second with 55 points.
Suffren alone won two races and finished second in another.
"Viesta was the greatest female sprinter ever to compete at Bonner Springs High School," Finley said.
The next year she set an individual state record in the 400 with a time of 55.90. She went on to train for the Olympics after leaving Bonner Springs.
According to the following week's Chieftain, the Bravettes celebrated with a Big Mac and fries, and upon arriving back in town they drove around at two in the morning announcing that they were champs.
Farnsworth says it was not any one thing that helped the girls that day, but a combination of things.
"We relied on our families, siblings, friends, teachers, teammates and coaches," she said. "They help you prepare the most, through the sweat, through the pain, through everything win or lose."
Farnsworth, a graduate of Pittsburg State University, is still a member of the Bonner Springs community and is a mother of five children ranging in age 8-18. She is a school nurse at Sacred Heart in Shawnee and exercises regularly. She gives credit to sports for preparing her for life, saying it taught her togetherness and commitment, which provided a solid foundation for family.
This story is not just to remember the team in a newspaper article. For years, family members of the team have tried to get recognition for the team in the gym with a commemorative banner or plaque.
The school's trophy case located outside the front office shows off all the great teams of Bonner Springs history with trophies or plaques, but does not show any mention of the 1980 girls track team, with the exception of the first-place regional plaque atop the case.
Tucked away in the southwest corner of the gym that shares a wall with that case is a list of school records with the 1980 girls 1,600-meter relay team, but there is nothing indicating the 3:56.94 is a state record.
In the new gym connected to the YMCA-no mention. Why is this?
"It would sure be nice for these girls to be formally recognized for their accomplishment," Helen McGraw said. "They worked really hard; it would be a nice gesture to get a banner."
Finley has gone to bat for the team in the past, only to come away empty-handed. "Administrators change and things are forgotten," Finley says of his past efforts. "Things like this have a way of falling through the cracks."
Steve Farnsworth, Carol's husband, says, "We keep thinking we'll get a banner but it's always, 'we'll get one, we'll get one.' It never happens. Hopefully, people will finally give them some deserved recognition."
The newly hired activities director for BSHS, John Hilton, sounded receptive to the idea.
"I am big on tradition. If there is a team that won a state title, then absolutely I want that up on the wall so we can be proud of it," he said. "If KSHSAA recognizes it as a state title then we will go ahead and get that taken care of."
There has been concern in the Bonner athletics department that perhaps Kansas' high school sports governing body KSHSAA (Kansas High School Activities Association) did not recognize or keep records of track state champions before a certain date. However, KSHSAA Assistant Executive Director Rick Bowden confirmed that the title is recognized in their media guide as a state title.
Helen McGraw said that if there is any issue of cost the family would be happy to foot the bill to ensure they get honored properly.