Commissioners vote in comprehensive plan
County Road 1 contract, five-year transportation plan also approved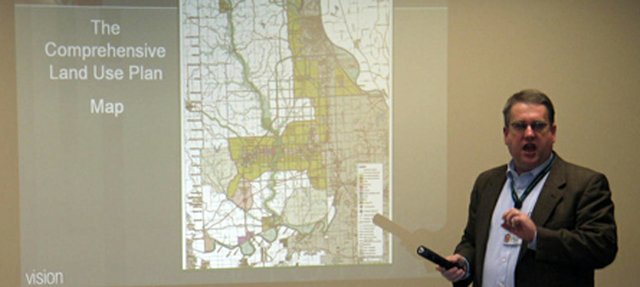 A document that will guide development in Leavenworth County for the next 20 years has met official approval by the county commission.
The Leavenworth County Comprehensive Land Use Plan - nearly one and a half years in the making - is now complete and ready to be implemented.
The plan looks ahead to where future development in the county may occur and sets standards for how improvements to utilities, roads and services may be accomplished, focusing on economic development, transportation and infrastructure issues, land use, growth management, parks and recreation and housing and neighborhoods.
Among other things, it recommends:
¢ Using an interlocal agreement between the county and municipalities within the county to develop guidelines for residential and commercial development within cities' urban growth management areas;
¢ Forming a public utilities commission in an attempt "to provide water and wastewater management appropriate to development" to municipalities within the county;
¢ Developing a "master plan" for the planned Interstate 70 interchange at County Road 1 in southern Leavenworth County; and
¢ Amending the county's zoning regulations.
Citizen-volunteers of the14-member comprehensive plan committee, who - along with comments from over 600 public input surveys - were instrumental in drafting the new document, met Thursday with representatives of Ochsner, Hare & Hare, the planning consultant for the project, Leavenworth planning and zoning staff and county commissioners.
Commissioners thanked committee members for their efforts in revising what Commissioner Dean Oroke called "the Bible when it comes to planning and zoning."
Oroke added that a well-thought-out comprehensive plan is one of the county's first lines of defense when facing potential litigation.
Comprehensive plan committee head Lynn McClure stressed, "This document is fluid : It's created in a manner, which will allow you, the commission, the planning and zoning committee and staff, to make changes as necessary as this document grows.
"It is absolutely crucial at this time that this county continues using it, involving it in every process with a planning issue and that it's integrated and connected with those communities that we represent with it as well."
Also on Thursday, commissioners officially ratified a $16.7 million contract that includes all construction costs for the County Road 1 turnpike interchange project with Perry-based Hamm Construction Inc. and the Kansas Turnpike Authority.
Hamm submitted the lowest of five general contractors' bids that were opened at the KTA offices in Topeka on May 13.
Of the total price tag, Leavenworth commissioners have said they expect to spend approximately $10.3 million, minus a $1.5 million contribution from the City of Tonganoxie and the possible procurement of additional U.S. Highway 24-40 Corridor Management funding from the Kansas Department of Transportation.
In other business, the board:
¢ Revised the county's five-year road construction plan - or wish-list for federally funded projects - with the Kansas Department of Transportation, the agency responsible for distributing federal funds to local entities.
Currently on the five-year plan are improvements to County Bridge HP-52 on Dempsey Road between 175th and 187th streets, County Bridge E-45 north of Easton on County Road 13, the intersection of County Road 1 and Kansas Highway 32 in southern Leavenworth County and two bridges running over Stranger Creek on County Road 5 northeast of Tonganoxie.
Commissioners voted to add improvements to the intersection of 147th Street and Fairmount Road southwest of Lansing to the plan for fiscal years 2009-2013 as well.
¢ Voted, 3-0, to update a job description for the county administrator position.
The document, which commissioner Clyde Graeber said would regularly be reviewed and modified, spells out administrative, policy, finance, human resources, public relations and legal functions for the administrator post.
¢ Approved, 3-0, a temporary special use permit for a commercial fireworks stand to be operated between June 28 and July 4 at 15955 Linwood Rd. The application was submitted by Jay Strieby.
¢ Approved, 3-0, the purchase of a 96-inch-diameter, 75-foot-long metal culvert at $12,972 from Salina-based Welborn Sales Inc. that is to replace a corroded culvert along Hemphill Road east of U.S. Highway 24-40 near the intersection of U.S. 24-40 and County Road 1.
¢ Unanimously approved accepting the low bid for sign materials from J&A Traffic Products, of Grain Valley, Mo., at $8,731.
¢ Met in two executive sessions totaling 15 minutes to discuss personnel with county administrator Heather Morgan.