International students complete course at fort's college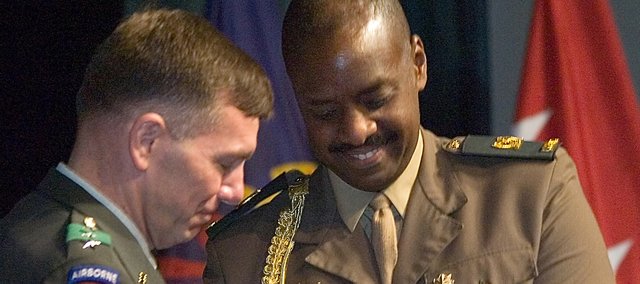 Fort Leavenworth — For the past 100 years, the Command and General Staff College at Fort Leavenworth has been graduating officers from more than 150 countries.
In this centennial year, it was no different Thursday morning as 50 new graduates representing 48 countries received special badges commemorating their time studying abroad at Fort Leavenworth.
"Today is a significant day," said Lt. Gen. William B. Caldwell, commanding general of the Combined Arms Center. "This is 100 years since the first graduation of the Command and Arms Staff College. It's amazing if you stop to think about it."
Caldwell gave the address at the ceremony, referring to the international students as the best their nations have to offer. He said the 100-year anniversary was monumental for continuing to strengthen alliances, form friendships and help "bring peace and stability to this world."
The first international graduates from the college in 1908were from Mexico. Since then, more than 7,000 international soldiers have gone through the program. Of those, 28 have become heads of state, 300 have become chiefs of staff and more than 2,000 have attained the rank of general back in their own countries, Caldwell said.
"When you stop to think about it," he said, "you are literally the best and the brightest from around the world."
The badge the students received represents a long tradition, Caldwell continued: a tradition of friendship and alliance, he said, that would endure long after their time at the fort has ended.
While the student's had achieved much by graduating, Caldwell said it was important to remember why they were here and what would be expected of them upon their return home. He reminded the students that while at Fort Leavenworth, they shared knowledge with one another that would make them better leaders in the future. He said each student learn from their peers' differences and cultures to enhance and better themselves.
"When you return home, you'll be leading soldiers and you in fact will be enhancing and providing the security for your nation," he said. "It's important to remember that you came here to grow as a servant leader; a leader who puts the needs of his country and his soldiers before himself."
In delivering the senior international military students' address, Lt. Col. Royee Beary, of Israel, said he and his fellow students had gained a lot of knowledge during their year at Fort Leavenworth. While he thanked the instructors for much of that, he said it was the interaction with his fellow officers that made the most impact.
"While our time here will unfortunately be ending in a matter of hours," he said, "it was a great year in every aspect, from the family we became to the times we shared and the education we received."
It was those friendships and new perspectives that he said would follow them throughout their lives.
In a later interview, Beary and other classmates spoke about how the program also affected the lives of their families. Beary said he was grateful and would always treasure the opportunity his family received to learn a new language.
Classmate Maj. Paul Cheak, of Singapore and recipient of the Dwight D. Eisenhower Award, said his family enjoyed the extra programs available at the schools at the fort. He said his daughter especially enjoyed learning about ballet and art. He added that upon returning to Singapore, he would like to initiate similar programs that look after the military families.
In reflecting on what benefits the United States has seen since bringing international students to study at Fort Leavenworth, Caldwell said it was the education about different cultures that has been the most useful.
He said through the past 100 years, the international students who have come to America have done much of the training of others. The international students are brought here, he said, to impart knowledge about their different cultures and histories.
"The experiences each one of them has been through in their respective countries and their regions of the world immensely enrich the experience of the military," he said. "We truly are the benefactors of them being here."