Tornado hits Linwood area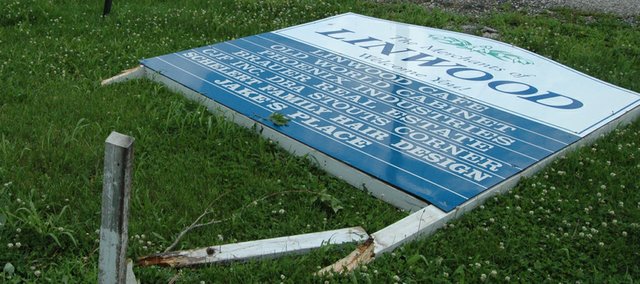 Severe weather once again hit Leavenworth County.
This time, the Linwood area was the recipient.
Linwood City Clerk Karen Kane said Friday that several trees were down in the southern Leavenworth County community. And, businesses along Kansas Highway 32 in Linwood sustained damage as well.
Reports indicated that a tornado hit ground near Linwood on Thursday evening.
Kane said her husband was standing outside their house, which is about 3 miles west of Linwood. He was monitoring the sky when he saw a funnel hit the ground.
"And that's what got us to the basement," Kane said. "He said it looked like two tried to form but just one formed."
As of Friday morning, Kane said her house still was without power, although she said Westar Energy crews were in the area working on power restoration.
Ron Cranor, Leavenworth County undersheriff, reported a power outage at Stout's Corner, the convenience store on K-32 in Linwood, because of a downed power line. But as Kane said, the community was with power Friday.
On Friday, limbs lined the streets of Linwood as residents were cleaning up the damage Thursday's weather caused.
Sharon Coatney, who with her husband, Jeff, owns Phoenix Industries, metal manufacturer that specializes in security products. The business on the south side of K-32 sustained damage from the storm, particularly to its roof. There was damage throughout the roof, Coatney said, but the most damage came when a nearby tree limb put a hole through the roof. The opening allowed water to get inside the building, and caused damage to the business' office.
The Coatneys also own the nearby New Linwood Cafe, but Sharon said there didn't appear to be any damage to the building.
In addition to Linwood businesses being hit, the city shop also was damaged, Kane said.
Emergency management also is telling citizens to drag their tree limbs to their curbs so that they may be picked up, Kane said.
BASEHOR
Lightning struck twice in Basehor.
Well, somewhat.
Lightning struck a tree June 2 on Klamm Street in Basehor. The current of the strike simultaneously hit a tree and a nearby clothesline. A woman living in the house there experienced some residual effects of the lightning strike.
On Wednesday, although it was in a different area of Basehor, lightning again struck. This time, lightning hit a tree before the current traveled back up through the ground and through a concrete patio, punching several holes in the concrete.
Basehor Police Chief Lloyd Martley said he received a report from the homeowner that it appeared as though someone had taken a jackhammer to the patio.
"Sure enough, lightning hit the tree," Martley said. "It came underneath the patio and blew up holes in it."
Martley said he's not accustomed to such damage.
"I've never seen that in 13 years, and here it's happened within the last two weeks."
Martley said there was marble-sized hail in Basehor on Thursday night, but no damage was reported.
Tonganoxie
In Tonganoxie, small hail also fell, and outdoor warning sirens were sounded, but no damage was reported, according to Tonganoxie Police clerk Sandy Koontz