Eat, sleep, softball: Pattersons' dedication rewarded
McLouth daughter, dad named top softball player, coach in area by Journal-World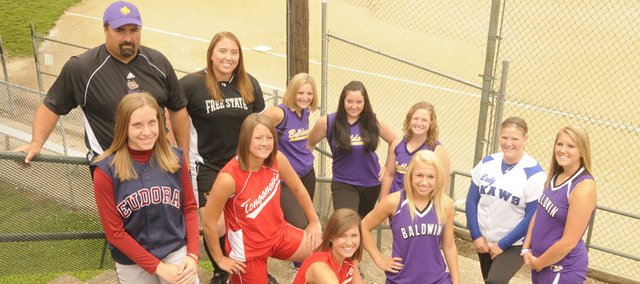 Nearly every morning this past offseason, Kendall Patterson could be found at the McLouth High track, sprinting against the wind with a parachute strapped to her back.
At home, her father - and MHS head coach - Ballard Patterson has erected various batting tools so his daughter can fine-tune her sweet swing at any time, day or night, and the local batting cage is within walking distance of the Pattersons' house.
It's that type of commitment and extra effort, along with their almost unbelievable numbers on the field, that led the father-daughter combo to be named the Journal-World's All-Area Softball Coach and Player of the Year for 2008.
The Pattersons led McLouth to an undefeated regular season, a 22-1 overall record and a third-place finish at the Class 3A state tournament.
The Bulldogs' first-round victory over Herrington was the first state tournament softball victory in school history. After losing a heartbreaker to eventual state champion Thomas More Prep in the semis, the Bulldogs added another state-tournament win in the third-place game.
These feats came in large part because the entire squad carried with it the disappointment of last year's two-loss season - which fell short of the state tournament - for an entire year.
"We really challenged the kids from Day 1 this year," Ballard Patterson said. "3A's so competitive, and there are so many really good teams that you have to get through. That just makes what we did even more special."
The McLouth coach knew exactly what kind of team he had when the girls took the field for the first time in March. They expected to win, expected to challenge for a state title and expected to destroy teams along the way.
They did all of that and then some. After an inept offensive showing led to the team's downfall in the 2007 postseason, Ballard Patterson emphasized scoring runs in 2008.
"We decided we were going to go out and score more this year," he said. "We figured, with our pitching and defense, that if we could score 12 to 13 runs a game, we'd be pretty tough to beat. So we practiced offense nearly every practice. Everything for us was about offense, even our defensive practices."
The shift in philosophy worked, as the Bulldogs scored 235 runs in 20 regular-season games. In addition, just two of the team's regular-season games went the full seven innings. The Bulldogs run-ruled their opponents in the rest, often ending games after three or four innings. Kendall Patterson was responsible for a lot of the damage.
From her spot at the top of the McLouth batting order, the Bulldogs' catcher delivered 47 hits, including 23 doubles and five triples. She was retired just 10 times in 68 at-bats, and only one of those was by way of a strikeout. In all, her numbers added up to a batting average of .810.
"I didn't even realize what she had done until I sent the stats out," Ballard Patterson said. "When I saw her numbers, I thought to myself, 'That's ridiculous. No one's going to believe this.'"
Even Kendall herself had a hard time digesting her stats.
"Last year I hit somewhere in the .600s, and I wanted to get above that," Kendall said. "But it's crazy. I can't believe it. But our team stats were amazing, too. So many girls on our team did so well."
That statement's true no matter how you slice it, but rather than looking at his own success in terms of the numbers his players put up, Ballard Patterson chooses a different method.
"I think the most important aspect of this season was that all three of our seniors are going on to play college softball," he said. "That's one of the things we pride ourselves on here. Every senior I've had has received a scholarship offer to play softball in college, and we often talk about tradition and pride in our program and how our school is hungry for a hero. I tell my girls to work hard and to be that hero so that the third- and fourth-graders will look up to them."
To that effect, Ballard Patterson can't help but look up to his own daughter in a lot of ways.
"It's special coaching her," he said. "But when we're between the lines, I don't look at her as my own kid. If anything, it's tough to not be harder on her than I am on the other players just because of the expectations we have for her. But I don't have to worry too much about that because she works so hard on her own. She wants to win more than I do."
A lot of that is because Kendall, who committed to play at Kansas University, wants to make her father look good, too.
"He's done so many great things for this program," Kendall said. "He runs tough practices, but the girls do really well with them. They know they have to put in the hard work to get the ultimate rewards. But we have fun days, too. We do stuff like water fights and eat Popsicles at practice.
"I'm really proud of him."