BLHS

senior a playmaker in all-star series sweep
Photo Gallery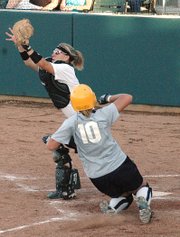 Chelsey Patton plays in MO-KAN All-Star Softball Series
Shawnee — Throughout her high school softball career Chelsey Patton was one of the top players in the Kaw Valley League.
Her selection to play for the Kansas All-Stars in the MO-KAN All-Star Softball Series validated her status as one of the top seniors in the Metro area, and the Basehor-Linwood High School standout backed up the selection with a stellar performance on Monday.
Patton played a key role in both victories as the Kansas All-Stars beat Missouri, 3-2 and 6-2, on Monday evening at the Shawnee Mission District Softball Complex.
"We just came out and did our thing," Patton said of her team's performance. "That's all you can really do."
Patton did her part in helping Kansas knock off its border rivals.
She stole a base and scored the first run in the first game. Patton's sixth-inning run was important because the game ultimately went to an extra inning. Missouri's Laura Greenfield (Liberty High School) tied the game with a solo home run in the seventh inning. Missouri took a 2-1 lead in the top of the eighth, but Kansas rallied for two runs in the bottom of the inning for the victory.
In game two Patton went 2-for-2 at the plate, and her leadoff single in the third inning sparked a three-run surge as Kansas took command early. Her team put up three more runs in the fourth inning to put the game away.
Despite being one of just two players from non-Class 5A or 6A schools in the game - Tonganoxie's Lindsey Himpel joined Patton as 4A representatives - Patton said she wasn't nervous.
Instead, she was excited to play with some of the other top players in the state. She said the experience would prepare her for college, when she will play at the University of Central Missouri in Warrensburg, Mo.
Patton will be busy playing softball for the remainder of the summer with her club team, the Kansas City White Sox. After the Metro tournament this weekend she will head to Oklahoma City for the Hall of Fame Tournament and, if all goes well, a trip to nationals after that.
Regardless of how the rest of summer softball goes, Patton will have the All-Star game high on her list of summer highlights.
"This was always my dream to play in this game," she said. "I actually didn't think it'd happen because Basehor's so small, but it's nice to know that I've worked as hard as I have to get to where I'm at to be able to play."