Camp-goers enjoy disability break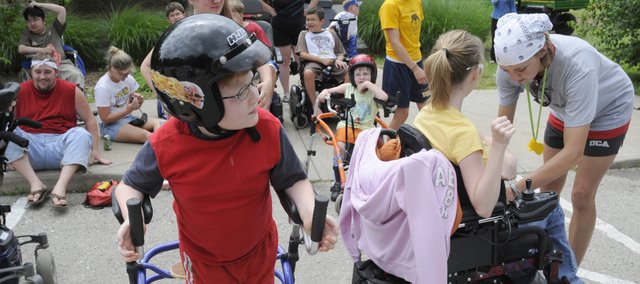 Linwood — At age 15, Lucas Mehl can't walk.
He uses an electric wheelchair and depends on others to help him shower, dress and use the bathroom.
Lucas has Duchenne Muscular Dystrophy, the most common childhood form of the disease, and isn't expected to live past his early 20s. So far, he eats without assistance, although he can barely lift his arms.
His mother, Kathy Mehl, described the youngest of her three children as easygoing, upbeat and giving. He volunteers at Pet World, Lawrence Memorial Hospital and the Lawrence Humane Society. But, she knows his life isn't easy.
"I see his emotional side when he sees pictures of himself standing or videos of him walking. That's very heartbreaking to see him think about how it was when he could walk, but he handles it better than I would ever expect," she said.
For the past eight years, Lucas has found support through the Muscular Dystrophy Association's one-week summer camp for children, ages 6-21, with neuromuscular diseases. The association sponsors 90 camps across the country, serving 5,000 campers.
"It's the one week out of the entire year that he is made to feel like he's like everybody else," his mom said.
Just being kids
At camp, barriers simply do not exist. Campers, regardless of what their disease progression is or which disease they have, can participate in activities such as zip lining, swimming, horseback riding, crafts and dancing.
"It's their week to just be kids," said Angela Hills, director for the Kansas City-area camp at Tall Oaks Conference Center near Linwood. "It's their week to not have muscular dystrophy, to not have wheelchairs and leg braces, to just be like everybody else and not have to deal with the everyday burden of neuromuscular disease."
Lucas was among 69 campers from 41 counties at last week's camp at Tall Oaks, 14 miles northwest of Lawrence. He was smiling and sporting a camp tradition that he and a few friends started four years ago - Mohawk haircuts.
"We do it for fun," he said after an afternoon swim. Besides swimming, Lucas said his favorite activities were "going on dates" and spending time with friends.
Such friends include George Li, 15, of Overland Park, who has attended camp since he was 8.
"It's good to see old friends. I've known these guys for a long time," he said.
He considers his counselor, John Cardarella, of Independence, Mo., a close friend. The duo donned matching bandanas that they made in crafts.
Special friendships
Each camper has a one-on-one counselor, who is at least 16.
"The counselors give 100 percent of their mind, body and soul, 24 hours a day, to be with these kids," Hills said. "They are their arms, legs, ears, eyes and do everything possible for these kids to have a great week."
Bryan Reagan, 21, Olathe, has been a counselor for six years. His cousin has muscular dystrophy and attended the same camp years ago. After his sister and brother volunteered, Reagan decided to follow in their footsteps.
"It's the one thing I look forward to every year. It's a blast," he said. "If you ever want to meet cool people, you go to a camp where they take care of kids with special needs and you meet some awesome people and you meet some great kids," he said.
Reagan has been matched with Tyler Bossow, 14, of Blue Springs, Mo., for four years. They try to hook up a couple of times a year outside of camp. He said Tyler, also sporting a Mohawk, and the other campers have taught him to "enjoy life."
Earlier in the day, Tyler was doing doughnuts with his electric wheelchair in the parking lot while waiting to take a ride in a motorcycle sidecar, a popular activity among campers on Thursday. During the wait, the campers were playing tag in their wheelchairs and joking about how they would cut the power line to each other's wheelchairs while they were out on their sidecar ride.
As Tyler began drinking a soda, George said, "Don't drink and drive," which provoked laughter among the group.
George said one of his favorite activities was riding in the motorcycle sidecar that was driven by Seneca Mayor Joe Mitchell.
"He went pretty fast. I think we hit 40 to 45 on the gravel," he said with enthusiasm.
'Soft heart for kids'
Mitchell has been involved for 25 years with Topeka Harley-Davidson and its annual MDA ride to summer camp, where the kids get to sit on the motorcycles and rev them up. Five years ago, Mitchell received permission to let the campers ride in his sidecar. It was so popular the first couple of years that he decided to take the day off and offer rides throughout the day instead of just the evening. He also recently raised $10,000 for MDA through a "party in the park" fundraiser.
"The kids have to deal with this daily and I don't, so one day or a week or whatever it takes for me to raise money is no big deal," he said. "That's just part of my soft heart for kids."
Christy Hollis, Junction City, said the camp gave her insight into the kind of care that these campers require on a day-to-day basis. She took care of Logan Bruner, 7, son of Gail and Vania Bruner, Lawrence, for the week. Logan's older brother, Luke, 9, also attended camp.
"It doesn't only give a camper a break away from home and a little vacation and a chance to do things that they don't get to do at home, but also for the parents to not have to stress for that week," Hollis said. "It's a good thing."