Former gridiron rivals unite
Jock, Johnson to represent Kansas in
GKCFCA

All-Star Game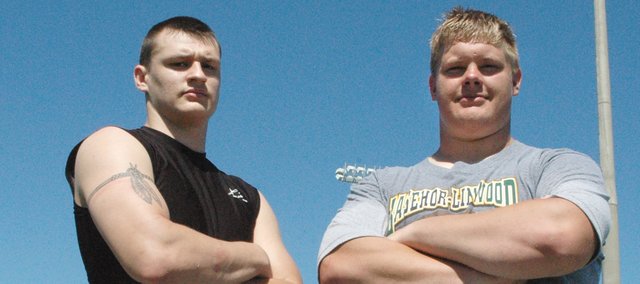 Overland Park — Swede Johnson remembers going over the game film at Basehor-Linwood High School, as well as the discussions in the huddle and the lectures from his coaches.
When it came to strategizing against Bonner Springs' Tyler Jock, the plan at Basehor and everywhere else was simple.
"We were supposed to keep the outside contained," Johnson said, adding with a grin, "but it didn't really work."
The Bobcats weren't alone in their trouble at containing Jock, the shifty BSHS quarterback who was one of the Kaw Valley League's most versatile threats for the past four years.
Of course, Johnson wasn't exactly easy for opponents to handle either. A monster on the offensive and defensive lines, he represented the Bobcats' strong side on offense, and was a feared tackler on defense.
Few people know that better than Jock, who used his own strength to try to avoid Johnson's grasp.
"Stay away from their strength," he said. "Use the speed and stay away from the middle."
Jock and Johnson spent the past four years standing in each other's way, but now they are teammates for the first time.
Both will play on defense for the Kansas All-Stars in the Greater Kansas City Football Coaches Association All-Star Game at 7 p.m. today at the Blue Valley District Activities Complex, 135th Street and Switzer.
Jock will play strong safety. Johnson will be on the defensive line.
Joining them as representatives of the Kaw Valley League will be Lansing free safety Justin Smith. Lansing coach Bill Pekarek will be an assistant on the Kansas coaching staff.
Kansas holds a 9-6 lead in the all-time series, dating back to 1991. The 2003 game was postponed because of lightning and never was completed. Kansas won last year's game 6-3. Missouri has won four of the last five meetings.
Both Jock and Johnson said they were excited to represent their home state in the game, and both were confident they would be victorious.
"I feel really good about it," Jock said. "We have a good team. Our offense is running good and our defense is good, so I think it's going to be a good game."
Johnson admitted there was some pressure to perform at a high level and bring bragging rights back to Kansas.
"It's always nice to have pressure, though," he said. "It gets you to work harder."
Jock and Johnson didn't know each other prior to becoming rivals in high school football. They'll get to know each other quite well during the next few years, though. After the GKCFCA All-Star Game, the pair will continue as teammates when they suit up for the football team at Butler County Community College this fall. That's something both said they are looking forward to. For one thing, Johnson won't have to try to stop Jock anymore. For another, Jock won't have to worry about being tackled by Johnson again.
"It's going to be kind of nice being able to know somebody from the same league and actually know a few people going to the same college," Johnson said. "We know the same area and we can talk about the same stuff."