Physical-therapy business opens
Basehor graduate expands clinic to serve Leavenworth County residents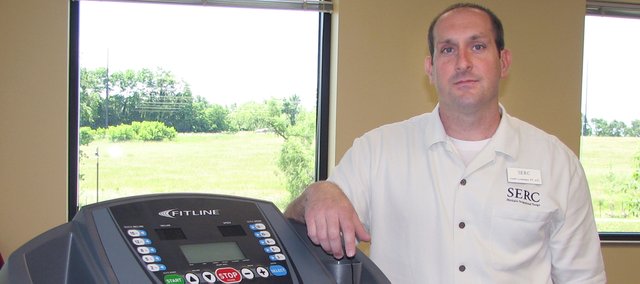 There are several SERC Physical and Hand Therapy clinics in the Kansas City area and Basehor-Linwood High School graduate just opened number 13.
On April 7, Jason Langford opened his business in Lansing to serve residents of Leavenworth County. Langford, who now resides in Olathe, used to work out of another location before deciding there was a need near his hometown.
"I worked in the Shawnee location with the intention of opening something out here," he said. "Lansing is growing. It's close to where I grew up. It feels like I'm coming home."
With an undergraduate degree in athletic training from Southern Nazarene University, Langford said he started out wanting to go into something sports related, but later decided to go to physical therapy school at Kansas University.
Now he treats patients' aches and pains from general orthopedics to post operation rehabilitation. A few athletes pass through the clinic, but Langford said it's the off-season right now and the most common ailment he sees is lower back pain.
He said evaluating each patient individually is the key to pinpointing and relieving the pain. Everything from muscle weakness to tight joints can be remedied through stretching and exercise in the 2,500-square-foot facility.
"It's fun to watch people come in here hurting and then leave being able to do what they want to do," he said.
So far, he said, the area has been receptive to the new facility. Most of his patients come from area doctor referrals, but he is looking to not only expand his patient base, but his staff as well. Right now, he said he has a few part time physical therapy students working in the clinic and is currently looking for another physical therapist to join the team.
"There is room to expand," he said. "A lot of that depends on the referrals I get, but I hope to grow."
For more information about the clinic located at 1004 Progress Drive, Suite 100, Lansing, call (913) 351-3838 or visit serctherapy.com.