Sandstone opens to mixed reviews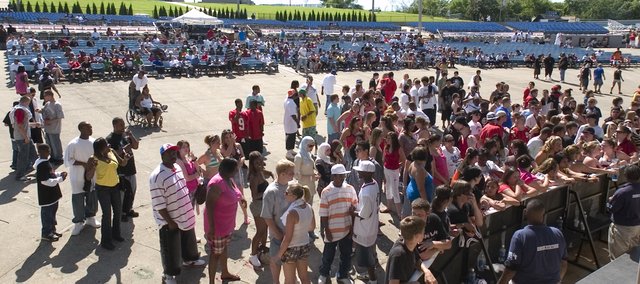 Patrons' opinions about changes at Capitol Federal Park at Sandstone were mixed as the summer concert season kicked off Friday at "Big Summer Jam," featuring hip-hop artists T.I., Keyshia Cole and Kansas City's own Tech N9ne.
The festival's lineup drew a crowd of about half the venue's roughly 18,000-seat capacity.
Janae Newman and her friends came from Kansas City, Kan., for the show. From the walkway several dozen yards to the right of the stage, Newman and her friends watched the act Block Life perform while a crowd of several dozen people danced in front of the stage. Newman said she came to see the performer T.I., and that she'd previously been to concerts at Sandstone.
She said she liked it better with seats up close to the performer, instead of the space for dancing now facing the stage. Eighteen rows and 5,000 seats were torn out of the section closest to the stage after New West Productions contracted for the venue's lease this year.
Tescha Bell, who came with Newman, said she came to see Keyshia Cole.
"I don't like it," Bell said. "It should have more seats."
Bell said she didn't think she'd be getting up to dance even when Cole performed.
A few yards from Newman and Bell, Mike Braden, Kansas City, Mo., stood nursing a beer.
"I brought my daughters," Braden said. He figured they were there for either TI or Tech N9ne.
"It's different than it used to be," Braden said, and complained that the grass section was closed off.
"I used to sit. As long as the beer's cold, I'll be fine," he added.
Candace Simmons, assistant manager of Capitol Federal Park at Sandstone, said the upper, grass section of the amphitheater was closed off "because of the amount of tickets sold," which resulted in only general admission and upper-reserved seats being used. She declined to give an attendance figure.
On Monday, the comments section on the amphitheater's Web site page that describes the new seating arrangement showed ten posts in favor of the new layout, while nine comments argued against it.
The new arrangement allows for 5,000 general-admission tickets in some shows to be admitted on a first-come, first-serve basis for what the Web site describes as the "up close and personal section." The upper, lawn section will be open for general-admission patrons in larger shows, Simmons said.
The concert season will continue Friday, June 27, with the "Red White and Boom" rock show, with Jordin Sparks, Lifehouse, Gavin DeGraw, Boys Like Girls, Metro Station, Blake Lewis, Ferras, The Last Goodnight, DJ Kirby and the winner of radio station Mix 93's Battle of the Bands.
A full calendar of events at the amphitheater can be found online at sandstoneamp.com.