Bank celebrates building's opening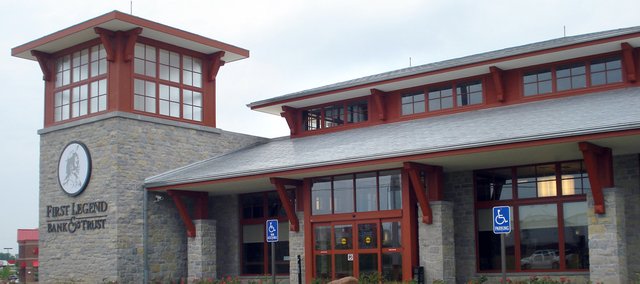 Although it has been open since mid-May, the newest branch of First State Bank and Trust celebrated its grand opening last week.
Employees and guests of First Legend Bank and Trust gathered June 18 at the new building, 10900 Parallel Parkway, Kansas City, Kan., for a ribbon-cutting, guest speakers and entertainment.
Jilinda White, executive vice president of the Tonganoxie bank branch, said one focus of the celebration was the bank's brand of customer service.
"I think there's room for our particular brand of customer service," she said. "It's following the Golden Rule - treating others how you want to be treated. That requires more effort, and yet it's worth it because of the relationships you build doing that."
The KCK Chamber of Commerce conducted the ribbon-cutting in front of the building before the party headed inside to listen to speakers and enjoy hors d'oeuvres and jazz music.
"We were also able to highlight some of the artwork we have in the building," White said. "Three of the artists were able to come. We introduced them and talked about their work."
All except one of the artists featured reside within 20 miles of the bank. Pieces range from colorful weather paintings by Wendall Anschutz, a former Kansas City television news anchor, to photography by Tim Forcade of Lawrence and blown glass sculptures by Dick Rector and Jim Slough of Free State Glass in Lawrence, who also created the glass light fixtures at the Basehor bank branch. Other pieces include a large oil painting by Debra Clemente in the bank's lobby, several watercolor and acrylic paintings by Mary Jane Grinter, prairie landscapes by Flint Hills artist Judy Mackey and paintings by Ernst Ulmer.
"We just have a little bit of everything," White said. "It's a very comfortable building. The design fits in with the Village West, Legends area very well."
Lead bank employees for the new branch include market president Lynn McClure, the former executive director of the Leavenworth County Development Corp., bank manager Lisa Young, who has been with First State Bank and Trust for seven years in commercial lending and assistant bank manager Angie Kaminski, a previous employee of M&I Bank and Brotherhood Bank.
"I think we've had a very good reception so far from new customers and customers from Basehor and Tonganoxie that have found us over there," White said.
The First Legend Bank and Trust took on a different name than the other branches of First State Bank and Trust because there was already a bank with a similar name in Wyandotte County. Along with the newest location in western Wyandotte County, there are also branches in Tonganoxie, Basehor, Lawrence, Perry, Wichita and Clearwater.