Basehor July 4th event a full day of fun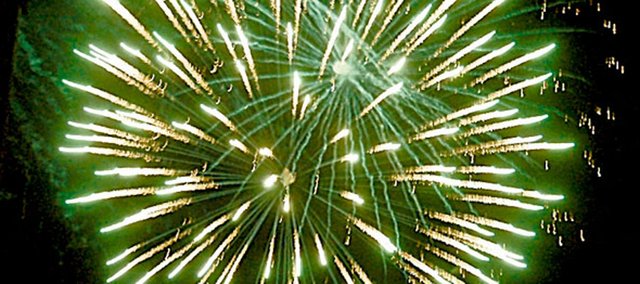 Basehor's patriotism will be on full display in the town's annual Independence Day celebration on July 4.
This year's festivities, organized by the Basehor PRIDE groups and themed "Honoring Old Glory," will feature the usual attractions along with a few new surprises.
Families can head to the Basehor-Linwood High School grounds at 5 p.m. to enjoy a moonwalk and concessions provided by the Basehor Veterans of Foreign Wars or to find a good seat for the parade, which will begin at 6 p.m. and travel south down 155th Street.
Anybody interested in walking or riding in the parade should meet about 5:30 p.m. at Holy Angels Catholic Church, 15410 Leavenworth Road.
This year's parade grand marshal is Hank Nahrebeski, an active member of the Basehor VFW.
"The grand marshal is always somebody that has contributed a lot to this city in one way or another," Basehor PRIDE member George Smith said.
Visitors also may hear the familiar John Philip Sousa march "The Thunderer" played by the American Legion Band of Greater Kansas City during the parade. Along with marching in the parade, the band, composed of volunteer amateur musicians of all ages, will perform a variety of patriotic marches during a concert that will last from 8:45 p.m. to 9:15 p.m.
"The band has a long, interesting history," conductor Heather Pickett said. "It was first established in the 1920s following World War II when the troops came home. We perform throughout Kansas City at various civic and patriotic events."
Brutie's Bunch, also known as Old Time Pickers and Fiddlers, will provide live entertainment from 6 to 8:30 p.m.
After the parade, visitors will have a chance to play a few games, line up for a chance to drench a city employee at the dunk tank and meet Miss Leavenworth County Teen, Jessica Farris. The Citizen of Year Award will be announced at 8:30 p.m. along with the winners of the parade contest.
Guests will want to gather around the BLHS football field around 9 p.m. to hear the national anthem sung by 2006 BLHS graduate Hannah Brown as well as see a flag ceremony and 21-gun salute by the Basehor VFW Color Guard.
"I just think it is so neat to have World War II veterans and Vietnam and Korea veterans out there," Smith said. "To have those guys march out there on the football field; I just think it should have national attention."
The celebration's main event, a fireworks display, will begin around 9:15 p.m. Basehor PRIDE members will be collecting donations to help continue the tradition in future years.
Basehor PRIDE, Kiwanis and Project Grad members will staff a fireworks stand from 9 a.m. to 9 p.m. Monday, June 30, through Saturday, July 5. All profits will go toward scholarships or the post-graduation alcohol- and drug-free party for graduating BLHS seniors. The tent will be set up just north of Casey's General Store on the east side of 155th Street.
"Everything we make stays in Basehor-Linwood," Smith said. "Ninety percent of what we make there goes back to graduating seniors in one way or another."
Inside
Check out Basehor Police Chief Lloyd Martley's "Chief's Corner" column on page 2A for information about setting off fireworks in the city.