Basehor police earn certification on new handguns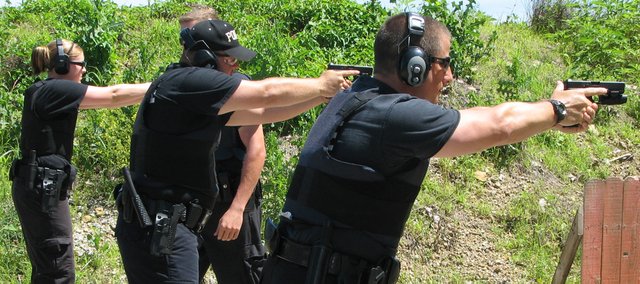 It's an annual event, but Basehor Police Department officers were introduced to a few new twists during range qualifying this year.
Eleven full-time officers qualified June 18 at the shooting range in Tonganoxie on the new department-issued .40-caliber Glock 22 and 23 handguns approved by the Basehor City Council in March.
"Most of us are currently carrying Glocks, so it's not much of a transition to the new weapons," Basehor Police Chief Lloyd Martley said. "They are just city issued. The Glock is a pretty standard used weapon in law enforcement."
Along with the new weapons, upgraded holsters were also introduced. Martley said the department decided to bump up to the level-three holsters to increase weapon safety. The new holsters have a feature that keeps the weapon in place until the officer releases it.
Range masters Sgt. Greg Hallgrimson and Lt. Bob Pierce spent the morning running the officers through a variety of combat drills to test speed and accuracy, practice reloading and target acquisition and to familiarize themselves with the new weapons and holsters. Pierce stopped periodically throughout the exercises to provide tips and scenarios.
"The more hand on the gun, the more recoil control you're going to have," Pierce said. "What buys you time? Gun handling."
Hallgrimson said he tries to offer situations the officers might encounter in the line of duty to help them visualize the purpose of the training.
"They are taught in academy to go through all the possible things that could happen in their heads," he said. "When we're on the range, we try to run them through things they might come across."
After the exercises, the officers were qualified on a course designed by the Kansas Law Enforcement Training Center called the KS-CPOST 50 Round Handgun Qualification Course of Fire. Each officer was required to shoot from several different positions ranging from 1.5 yards to 25 yards away from the target and score a 70 percent or better to qualify with the weapons.
All part-time police officers will qualify with the weapons at a later date, Martley said.