Lady 'Cats lend a hand at
TLC

benefit event
Lombardino, Jeannin play in charity game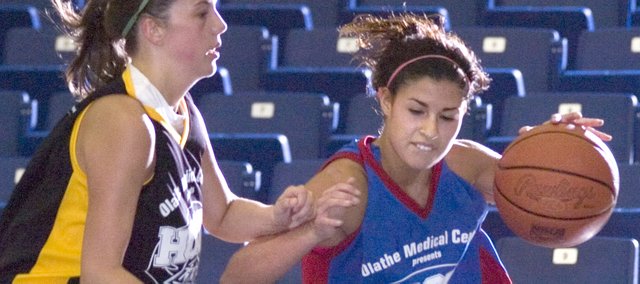 Two Basehor-Linwood High School seniors put their athletic talents on display for a higher cause Saturday in the TLC Hoops for Kids Benefit Game at Mid-America Nazarene University in Olathe.
Point guard Ashley Jeannin and forward/center Cassie Lombardino represented BLHS on the Kansas All-Stars, which lost to the Missouri All-Stars in one of the daylong games played for charity.
Lombardino said despite the loss she thought the Kansas All-Stars performed as a cohesive unit because the team is composed mostly of players she's familiar with.
"We played together; it was pretty much our summer team, so we knew how to flow together," Lombardino said. "We passed the ball well and stuff, it was a team thing. We all played well, I thought."
Jeannin agreed that the familiarity of the Kansas players helped the team to jell well, but she added that it was the team's third game of the day, which kept them from playing their best.
"I just think we were all pretty tired," she said. "It was our third game, we could have played a little harder."
Scores aside, the focus of the weekend was to raise at least $54,000 for the charity, which helps to find housing and medical assistance for children in crisis. Funds came from ticket sales, team entry fees, and an auction that included autographed items from current and former NBA, NFL and Major League Baseball players, as well as college athletes.
The main event featured two current NBA players, Tyronn Lue, a Raytown, Mo., native who played college basketball at Nebraska, and Billy Thomas, who played for KU.
"It was well-attended," Lombardino said. "There was more at the other all-star game. It wasn't as widely publicized as the other one. More people started to show up for the guys' game."