Senior program hurts for volunteers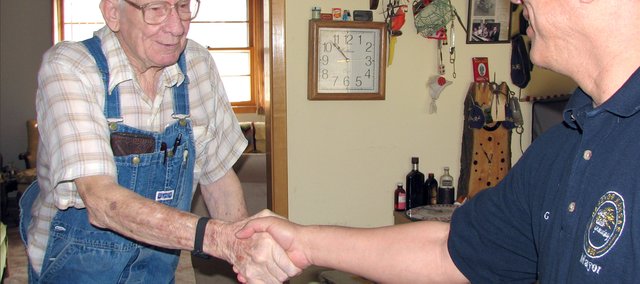 Meals on Wheels is a labor of love.
Delivering a hot meal to a senior citizen that may have no other way to receive one, is something volunteers like Jan Higgins take pride in. And, that's why despite rising gasoline prices, Higgins continues to make her rounds on a regular basis.
"We're not having any problems yet," Higgins said about delivering meals on her route with a fellow volunteer, Nona McFarland. "They're (the routes) actually pretty short and pretty condensed. Ours is 18 miles round trip, but that's still not bad."
Julie Angello, nutrition coordinator for the Leavenworth County Council on Aging's Meals on Wheels program, said keeping the routes short is one way they try to retain much-needed volunteers.
Higgins said she delivers meals to six to 11 homes and is usually only asked to provide a few hours of her time once a week unless she acts as a substitute.
While it seems there is always a shortage of volunteers for the program, Angello said the soaring gas prices along with the summer months have the council especially hurting for help.
"We don't reimburse them, but we do try to keep the routes as minimum mileage as we can," she said. "Summer has always been a challenge because the volunteers want to take time off. We've been using more employees, pulling staff and calling more substitutes, so we are really looking for volunteers."
The higher cost to fuel her vehicle is really a small price to pay for the service Meals on Wheels provides seniors in need, Higgins said. In her opinion, Meals on Wheels is one of the better programs the Council on Aging provides, and that is why she's been delivering meals for almost six years. It not only provides the meal itself but also allows volunteers to check on seniors who may not have family, friends or neighbors visiting them regularly, she said.
"For the volunteers that we do have, they are dedicated," Angello said. "Regardless of the gas prices, they stick with us."
Increasing food prices may also create a hardship for Meals on Wheels, but Angello said the council's concern is delayed since it is in the middle of an annual contract with the Department of Veteran Affairs Medical Center in Leavenworth. The VA caters the meals for the program at a set price for the year. Jim Gleisberg, public affairs officer for the VA, said the price for meals was expected to go up next year, but the question was, how much?
"It would be nice to have a crystal ball to see what's going to happen, but we don't," he said. "We're going to honor this year's contract, but then we'll go back out to bid next year. It will affect everybody who bids for the contract because it's affecting us."
Angello said the council was coping with increasing costs right now, but as for the future, officials will just have to wait and see.
"So far we're handling it," she said. "As prices increase, we just don't know. It's affecting everybody. It's a snowball effect."
Those interested in volunteering for Meals on Wheels can contact Angello at (913) 684-0777.