Lansing boys stumble early in substate loss to Seaman
Didde leads Lions with 12 points in 58-42 loss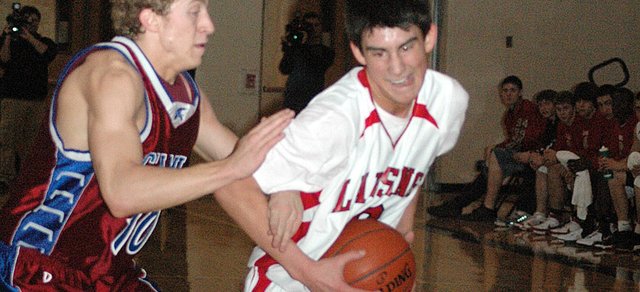 Photo Gallery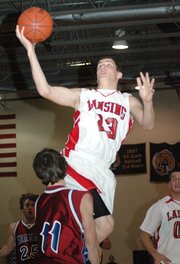 LHS boys fall to Seaman in substate finals
Kansas City, Kan. — A shaky performance Wednesday night in the semifinals of the Class 5A substate basketball tournament foreshadowed what was to come for the Lansing High boys.
They survived their semifinal contest thanks to a strong fourth quarter, but rather than learning from the lack of focus, the Lions wallowed in it during a 58-42 loss to Topeka Seaman in the finals Friday night at Turner High School.
Five Lions were late for the team's shoot-around - four of them starters at some point during the season and the fifth a little-used sophomore. In keeping with team rules, the late arrival altered the Lions' starting lineup.
Trouble followed as the Lions made mistakes, repeatedly misfired on open shots and were generally out of sync.
"I definitely think it had a little effect," senior Stephen Didde said of the late arrivals.
LHS never led in the game, and it trailed 5-0 before scoring its first points.
Lansing used back-to-back baskets by Didde to rally to within 10-7. He later scored on a put-back that made it 14-9. LHS had the ball with time winding down in the first quarter, but instead of taking the final shot, the Lions turned it over and Seaman's Bryce Simons buried a 16-footer at the buzzer.
Didde knocked down two more baskets early in the second quarter that kept the Lions close, but Seaman eventually extended its lead to double digits.
The Vikings led 25-16 at halftime. Didde had 10 points at the break, and Bobby Hauver had the Lions' other six.
"The first quarter we gave up 16 points; that's too many. But the second quarter giving up nine, right, that's good," second-year LHS coach Rod Briggs said. "That's what we want. But the problem is we just didn't capitalize and score enough ourselves."
LHS made just seven of 27 shots in the first half and didn't attempt a free throw.
Seaman made seven of 13 shots and a pair of free throws in the third quarter as it cushioned its lead. Ryan Balsters swished a three-pointer at the buzzer that extended the lead to 43-29.
Lansing never threatened down the stretch.
"We just didn't play as well as we needed to play tonight," Briggs said. "Seaman played very well. They made some tough shots when they needed to, and they did obviously a lot of things that were really, really good."
Lansing hit just 28 percent of its shots (16 of 57) and attempted just seven free throws. Seaman shot 44 percent (19-for-43) and made 16 of 21 free throws.
Simons led the Vikings with a game-high 16 points. Didde led Lansing with 12 points, Hauver had nine, Cody Rush had seven, Clayton Hall had six, Curtis Beall and Brian Beall had three apiece and Ryan Delich added two.
Lansing ended its season with a 15-7 record. Seaman improved to 11-11 and will continue its season on Wednesday at the Class 5A state tournament.