Semi overturns on I-70 on-ramp from K-7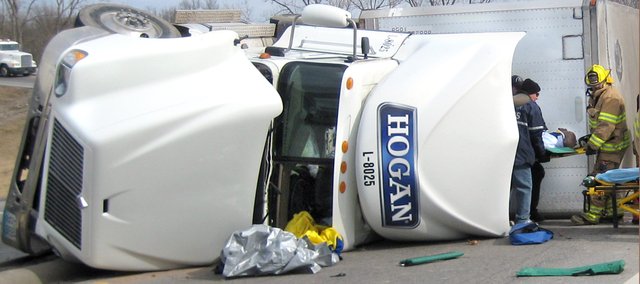 An accident Monday closed the eastbound and westbound Kansas Highway 7 ramps to Interstate 70 in Wyandotte County for more than 4 hours. A Missouri semi tractor trailer rig with one trailer overturned on its side Monday afternoon while about midway down the on-ramp to eastbound Interstate 70 from Kansas Highway 7, ending up on its side across the curb, on the lane for the on-ramp to K-7 from eastbound I-70, closing that side of the loop. The Bonner Springs Emergency Medical Services received a call at 2:04 p.m. for the accident, and the Bonner Springs Fire Department was called in to extricate the driver from the cab, who appeared to be in good condition when he was removed about 40 minutes later.
The driver was Rickey Colbert, 45, of Shawnee.
The accident shut down the other lane of the ramp's loop, from eastbound I-70 to K-7. The lanes were reopened at 6:15 p.m.
John Claxton, director of Bonner Springs EMS, said the accident may have been due to the driver speeding.
"I assume he was just going to fast for the conditions," Claxton said. "The wind was going pretty good, and that may have been a factor. Luckily, it wasn't a truck with any kind of hazardous materials."
A jigsaw and the jaws of life were used to open the rear door of the truck's cab, in order to get the driver out without compromising his spine, Claxton said, in case he had suffered spinal injury in the accident.
Although he appeared to have suffered no major injuries Colbert was flown by Life Net helicopter to an area hospital.
There were no other vehicles involved.
Art Rizo, Kansas City, Kan., was driving behind Colbert when the rig tipped. Rizo said he saw the truck begin to tip three times before it finally went over and that it looked like a problem with the truck's brakes may have caused the accident.