Hunt is on for teachers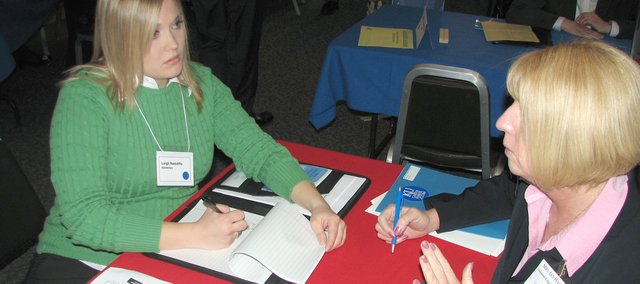 Impress and be impressed.
It's a two-way street when it comes to the competitive world of teacher recruitment. Potential teachers must show the school districts they are more than capable to teach and the school districts have to find ways to attract and retain quality teachers.
Armed with the district's screening interview form, also known as a "green sheet," Basehor-Linwood school district Assistant Superintendent David Howard, Basehor-Linwood High School principal Sherry Reeves and Glenwood Ridge Elementary School principal Jan Hancock sat down to interview a handful of potential teachers at a teacher career fair Tuesday at Kansas University.
Howard said the green sheet allows them to gain a basic rundown of the candidates' qualifications.
"We run through the green sheet and get an idea whether we want them to come back for a second interview," he said. "Basically we're making sure they're a fit for the position we're potentially thinking about. We want to make sure that Basehor is a good fit for them, but also that they're a good fit for Basehor."
Hancock said it's always interesting to attend career fairs because attendees are able to find out what new teachers are learning during their student teaching stints.
"Sometimes they're bringing ideas to us," she said.
Excellent responses to the green sheet questions can help candidates earn a second building interview with the district. Showing excitement while answering also doesn't hurt.
"We ask certain questions that pinpoint items of interest that make sure all the kids will be served," Hancock said. "If they're really outgoing here, a lot of times they're outgoing in the classroom."
Confidence is also key when it comes to recruiting teachers in the Basehor-Linwood district. Answers given for at least three questions during the screening interview can give administrators some insight on whether a candidate has the "can-do" attitude they're seeking.
Howard said she wants to attract teachers who will defend their teaching methods and communicate with their principals.
"If they've used something during student teaching that they know works, tell them (the principal)," Howard said. "Don't be afraid to sit down and visit with that principal."
Howard and other district administration have been to a few of these career fairs this semester and have several more to attend at different universities throughout the state. Hundreds of districts from as near as Kansas, Missouri, Nebraska and as far away as Texas and Arizona show up at these events to recruit potential teachers and promote their districts as desirable places to be employed.
And, it's a highly competitive process. These hundreds of districts may be vying for the same two or three graduates that specialize in math or science - the two subjects where teachers are the scarcest.
"Sometimes if you're looking for science or math, you're just praying to find someone," Howard said. "And, really, almost any at the secondary level are getting hard to find."
Thomas Fulbright, a KU graduate student that interviewed with Basehor-Linwood, said even in his specialty area of social studies, where teachers are in less demand, he can still feel the competition between districts as well as between students.
"Social studies can be pretty tough," he said. "We only have 12 people in the program and they're all awesome people."
At such job fairs, it takes much more than a banner to attract qualified teachers.
Howard said Basehor-Linwood is obviously trying to work on beginning salary to entice new teachers, but it also provides new teachers with laptop computers and a mentoring program, which allows them to work with a more experienced teacher during their first two years in the district. The district's collaboration days, where teachers share ideas and team build, were also emphasized during interviews.
Such amenities are obviously important to many new teachers.
"I would like to have as much professional development as possible," Fulbright said during his interview.
"I want something very energetic, team-building, goal-oriented," said Leigh Radcliffe, a KU graduate student who earned and scheduled a second interview with Basehor-Linwood. "A place that really helps teachers out."
While Hancock said competing with other districts that are able to offer higher salaries is a strike against Basehor-Linwood, the district tries to sell the community and the support it gives. Improvements the district will receive in the next couple of years due to the recently passed bond issue are also highlighted.
"We are a growing community," Hancock said to an interviewee. "It really is a wonderful place to be right now."
District administrators will continue to attend these recruitment events well into next month to try to fill the positions they know are open at this point. Resumes received in response to openings the district has posted online are also reviewed. And, Howard said there could potentially be more openings by the end of year.
While the goal is to fill the positions before the next school year, Howard said administrators ultimately want to find people who are in the profession for the mental growth rather than the monetary benefits.
"I feel like it's a very rewarding job," he said. "And, for people who love kids, it's the greatest job ever. What better place to be than with them?"