State pageant an experience for teen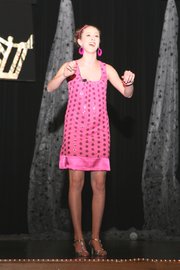 It's not just about outward appearances in the pageant world, and Miss Leavenworth County Teen 2008, Jessica Farris, a freshman at Basehor-Linwood High School, knew that going into the Miss Kansas Outstanding Teen pageant last month in Wellington.
Being able to answer on-the-spot questions clearly, concisely and intelligently is extremely important, especially since an entire day at the state pageant is dedicated to formal interviews with the panel of judges. The interview category can often trip up unprepared contestants. It was something Farris knew she needed to focus on before heading to Wellington.
"It was the biggest thing I was having trouble on," she said. "I gave a lot of mock interviews with teachers and worked with my aunt in Jeff City (Mo.) who works with corporate companies on interviewing."
During the formal interview portion, Farris said, the contestant must answer questions thrown at her by the judges for eight minutes. Another on-stage interview consists of two questions one about that particular contestant's platform, or cause they feel strongly about and promote, and one about the contestant herself.
"They asked me a lot about my platform," Farris said "It was a mix of different questions though. I thought they would stick to one subject, but they moved around a lot."
Farris competed with 12 other teens from across the state for the title of Miss Kansas Outstanding Teen 2008 in several categories: interview, talent, physical fitness, evening gown and scholastic achievement.
The talent portion was where Farris thought she did her best. She sang "Popular" from the musical "Wicked."
She didn't place at the state level, but she said it was still a great opportunity.
Besides meeting new people and performing, it allowed her to gain experience that she will use later on in life. She said she knows it often takes quite a bit of practice and experience to place at a competition. This was only her second pageant ever and several of her competitors had a lot of previous experience in different pageant circuits.
"I didn't place at all, but it was a lot fun," she said. "It was still worth it."
While she's unsure about whether she will continue participating in pageants, she is excited to finish up the year with her local title. Her next appearance will be in the St. Patrick's Day parade March 15 in Tonganoxie.
"I'm just going to finish my year as Miss Leavenworth County Teen and see where it goes from there," she said.