Cleaning crew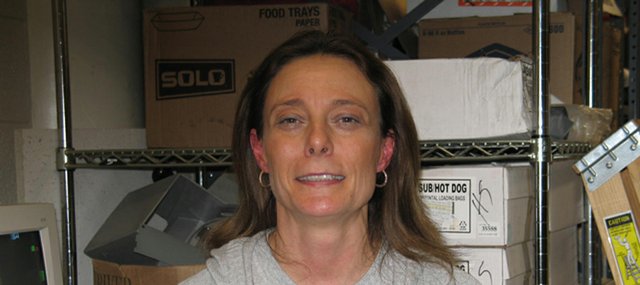 In her first year on the job as a custodian at Lansing High School, Linda Gable says, "I think I found a niche.
" : I was looking for a challenge, and I found one, but I'm happy with it."
Gable has fit right in with the four other custodians at LHS, school staff and students.
She's one of the first ones to enter the school every morning at 6 a.m., and, from there, she turns on the lights, sets up classrooms, raises the flag outside and tidies up until students begin to file in.
It's not just school days, though, for Gable and other members of the custodial crew.
"This place hums seven days a week," she said.
With sporting events, concerts and a myriad of after-school activities, someone like Gable is always there behind the scenes.
Just this weekend's forensics tournament is expected to bring in 1,000 visitors to LHS, Gable said, and the custodians must be there to set up and clean afterward.
With a 12-year-old in the school district and an 18-year-old who just left for United States Army basic training at Fort Benning, Ga., Gable said she can relate to the students she works around and enjoys what interactions they have together.
"It's always, 'Ms. Gable, my locker won't open,' or, 'Ms. Gable, can you do this?'" Gable said. "At first it was a little overwhelming, but now I love my job, and I'm happy with it."
She said there have been times when, for instance, she sees a girl crying in the hallway and takes the time to ask what's wrong and if she needs to talk to a school counselor.
A program for credit within the school that provides students an in-house, controlled work environment working alongside custodians also gives Gable some additional get-to-know-you opportunities.
"99 percent of the kids here are awesome respectful and helpful," Gable said. "They'll laugh with you, if you laugh with them."
One thing that has been difficult since she began her new job?
"I am finding it harder to go home and clean house," Gable said.
NAME: Linda Gable
OCCUPATION: Custodian, Lansing High School
ADDRESS: Lansing
FAMILY: Douglas, husband; Nicholas, 18, son; Aryssa, 12, daughter
HOW LONG HAVE YOU LIVED IN LANSING, AND WHAT BROUGHT YOU HERE? "Since 2000. We were looking at retirement, and we really liked the area."
WHAT DO YOU LIKE MOST ABOUT LANSING? "It's a small-town area, close to the city. The people are great really nice. It's the type of community you'd want to raise your kids in."
WHAT DO YOU DO FOR FUN? "I work out. I love country-western concerts. I love to cook and love to travel."
WHAT MIGHT SURPRISE PEOPLE ABOUT YOU? "When I was young, I was an introvert. I was not very outgoing."
WHAT IS THE BEST ADVICE YOU HAVE EVER RECEIVED? "To be yourself, and to be happy."