Division I football in Hill's future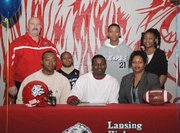 Chris Hill's dream of being a Division I football player now is a reality.
Hill made it official Feb. 7 when he signed his national letter-of-intent to play for the United States Naval Academy.
"I'm very excited," Hill said. "This is a lot of hard work coming to a head. It feels great."
After a weekend visit to Navy, Hill said he knew he'd found the right place.
"When I went there and visited, I got to meet the coaches face-to-face and I got to stay with a player that weekend, and the whole thing just clicked," he said. "The football program is great, and the campus is great."
Hill is going to a program that is used to success.
The Midshipmen went 8-5 in 2007 and advanced to the Poinsettia Bowl where they lost to Utah in a 35-32 thriller.
Hill will play running back at Navy, and he said coaches have told him he has a chance to play as a true freshman.
"They tell me if I come in in shape and work hard, I can play next year," he said.
LHS coach Bill Pekarek said Navy's coaches are impressed with Hill.
"Navy's very excited about Chris coming in and being a fullyback-type in their offense. He was more of a tailback-type slot guy (at Lansing)," Pekarek said. "We do some of the same things they do in their offense. I thought they'd probably use him as a slot guy, but they want him to be a fullback type guy, so I hope he goes in there and tears 'em up."
Hill led Lansing in rushing as a senior with 810 yards and nine touchdowns on 125 carries. He was the sixth-leading rusher in the Kaw Valley League.
He also caught five passes for 65 yards. Defensively, he made 20 tackles and had two interceptions.
Hill has long dreamed of playing college football, and he credited his father, Chris Hill Sr., with that desire. His father played football at Alabama State, so football has been in the family blood for years.
"I'm asking him, 'What'd you do in college? When did you do this? When did you do that?'" Hill said with a grin. "I'll try to break some of his records now."
The Naval Academy is located in Annapolis, Md., and Hill said his family planned to move to Maryland or Virginia to be closer to him during school.
"That had a big factor (on the decision to choose Navy), just knowing that they're going to be able to come to all my home games," he said.
In addition to football, Hill is following in his father's footsteps by going the military route. His father is an Army officer, and Hill looks forward to serving his country in the Navy.
He said juggling college life, military training and football shouldn't be too difficult.
"Once I graduate it'll be five years, but until I graduate I'll be a normal college student," he said. "All of the military training is done in the summer, so during the school year I'm a regular college student."
Hill said he will depart for boot camp on June 1.