State trip slips away
Banked three-pointer lifts Seaman girls over Lansing, 32-31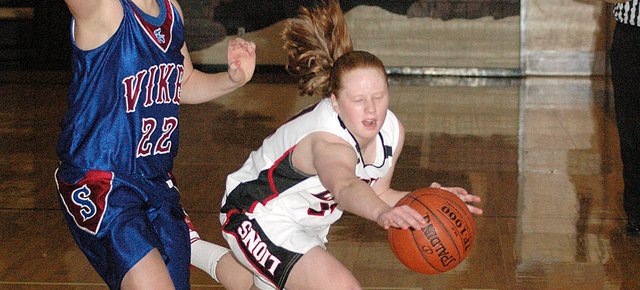 Photo Gallery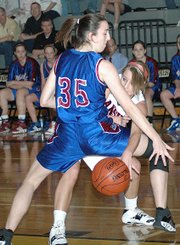 Seaman 32, Lansing girls 31
Kansas City, Kan. — Less than 19 hours into the first day of the month, March Madness officially kicked off with a heartbreaking defeat for the Lansing High girls basketball team.
LHS led almost wire to wire Saturday night in its Class 5A substate championship game against Topeka Seaman, but Seaman senior Rachael Solis banked in a three-pointer with 34 seconds left that propelled the fifth-seed Vikings to a 32-31 upset victory over the No. 1-seed Lions at Turner High School.
The loss snapped Lansing's four-game winning streak and ended the Lions' season agonizingly close to a state tournament berth.
"You think about a banked three, but that's part of the March Madness deal," fourth-year LHS coach Keith Andrews said. "That's why it's like that. When it comes down to chances to go on, it's the player that makes the most plays, and it just happened for them tonight."
The fact that the game was a low-scoring affair is surprising considering the abundance of early offense. LHS bolted to a 6-2 lead in the first two minutes on a pair of layups by sophomore Amy Briggs and another by junior Alexis Ellis.
The Lions' full-court trap forced two quick turnovers, and Seaman called a timeout.
Another basket by Ellis and a free throw by senior Christine Cordes gave LHS a 9-7 lead at the end of the first quarter.
Senior Katie Nietzke swished a three-pointer early in the second quarter that extended Lansing's lead to five points. Later in the quarter, Briggs drained a trey that gave the Lions their largest lead of the game at 17-11. A string of three late turnovers led to points for the Vikings, however, and Lansing's lead was trimmed to 20-17 by halftime.
Both teams struggled to score during the third quarter. Lansing made just one of eight shots and Seaman was one-for-11. The lack of offense seemed to work out for LHS, however, as it extended its lead slightly and took a 24-20 advantage into the fourth quarter.
A state tournament qualifier in the previous two seasons, Seaman's experience shined through in the fourth quarter. The Vikings forced five turnovers and turned them into six points.
Even so, Lansing still had a chance. After Seaman tied the game at 24-24, Cordes scored and was fouled with 4:40 left. She made the ensuing play and put the Lions ahead by three points.
Neither team scored for more than two minutes, and with each passing second the Lions seemed closer to victory. They forced two turnovers during that span and Nietzke took a charge.
A pair of free throws by Seaman's Erin Greenwood made it 27-26 with 2:01 left. Nietzke sank a free throw with one minute left that put LHS up by two. Kourtni Blocker sank a free throw for Seaman, and Briggs added one for LHS, making it 29-27 Lansing with 56 seconds remaining.
Blocker missed a shot on Seaman's ensuing possession, but the Vikings grabbed an offensive rebound and kicked the ball out to Solis. The 6-foot senior's three-pointer banked in and gave the Vikings the lead. A LHS turnover and two free throws by Emily Gatewood extended Seaman's lead to three points.
Nietzke knocked down a pair of free throws with 13.3 seconds left to bring LHS within a point. Greenwood then missed a pair, and Lansing had one last chance. Briggs drew contact on a three-point attempt, but no foul was called and time expired.
Andrews lamented the numerous opportunities his team had to put the game away early,
"We were never able to pull away, and either by missed free throw by us or a foul putting them at the free throw line or little things like that, a missed rebound, those things all add up," he said.
"We just needed one more shot to fall outside or one more big rebound and put-back."
Briggs led LHS with a game-high 13 points, Nietzke had seven, Ellis and Cordes scored four apiece, Brittney Lang had two and Katelyn Griffen added one.
Nine different Vikings scored, led by Greenwood with six points.
Statistically, the teams posted nearly identical lines. Lansing made eight of 33 shots for 24.2 percent, sank 12 of 20 free throws and grabbed 35 rebounds. Seaman hit nine of 33 shots for 27.2 percent, 13 of 24 free throws and grabbed 33 rebounds. The major difference was turnovers, with 18 for LHS and 12 for Seaman.
Andrews said he was proud of his team for having a season that included a 15-7 record and No. 6 state ranking, but he wished they would get to enjoy March Madness for another week.
"It ain't so great today," he said. "But at the end of the day there's got to be a winner and a loser. Half of those fans are mad; half are happy. Half are heart-broken, and I just know that the heart-broken side hurts awful bad and it's not a lot of fun today."
SAD FOR SENIORS
Saturday night marked the final high school basketball game for LHS seniors Morgan Chiles, Christine Cordes, Amanda Darrow, Katie Nietzke and Retha Cioppa. This senior class marked the first four-year group of players that Andrews had at the high school level.
He said he felt bad that they were unable to make it to state, and he said they were valuable contributors to the program that would be missed.
"This group is a cornerstone that we've had," he said. "Those seniors have played their heart out, those are the ones that we've built around, they're the ones we count on and they're the ones that got us here, so there's no level to express the pride in them, and they played their hearts out. You'd like to have them four more years."
EXPERIENCE RETURNS
Despite losing a veteran senior class, Lansing will be loaded with experience again next year. Seven players with varsity experience will be back, including three everyday starters.