Stepping back in time
LHS

students use cross-curriculum project to learn history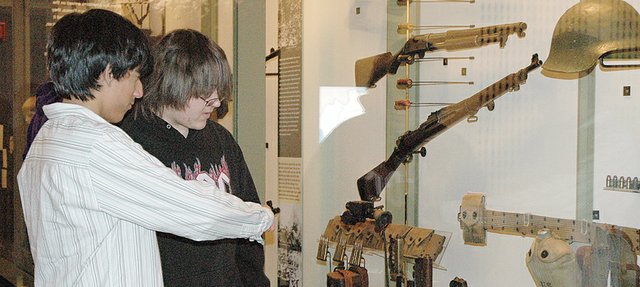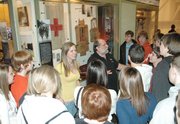 In a room of darkness, a sudden explosion casts a light upon a trench below filled with mangled metal, debris, mud holes and four soldiers with their heads hung low.
Behind them hangs a large screen where images begin to appear. Dramatic photos of guns, airplanes and soldiers fighting for their lives tells the tale of America on the threshold of war.
This exhibit in the National World War I Museum, located in Kansas City, Mo., starts off the historic experience for a group of freshmen from Lansing High School. The students crowded onto the walkway that hangs over a replica of a trench used during the war as they watched a program asking the question, "Should America enter the war?"
Freshmen of Lansing High recently completed a cross-curriculum unit that included a presentation, written report and visits to not only the World War I museum, but also the Negro Leagues Baseball Museum and the American Jazz Museum.
Keith Andrews, a freshman social studies teacher and LHS, said teachers wanted to create a project that would connect classes such as history, English, math and science to show students that while the subjects may be different, there is a uniform methodology when it comes to gathering, compiling and reporting information.
This is the first time LHS has required all of its freshmen to work on one large project that incorporated every class. Students learned about World War I during class and through trips to the library. Then they picked a topic to focus their paper on. Some topics chosen by students included music, food, clothing, medical practices and weaponry during the time period.
"I think that rather than force them, it gave them the opportunity to come up with their own topics. Not every kid is a history buff or likes World War I, so picking their own topics made it interesting for all," Andrews said.
The students' written reports will be graded by their teachers throughout the different subject areas. Each teacher will focus on a different aspect and give out a grade for that individual class. For example, the math department will focus on the graphs and the science department will focus on medical concepts.
The cross-curriculum project is part of the Freshman Foundation that is working with freshmen to make their transition to high school easier. Andrews said teachers are focusing on working together so that students' grades improve across the board.
"It reinforces that we all are a community," he said. "It's a smaller scale so they can see that different backgrounds have the same process for gathering information."
The highlight of the project, however, was the trip to the museums.
"What a great learning opportunity to have this close by," Andrews said. "(The World War I museum) just have a lot of research and an overwhelming amount of artifacts. It's a great opportunity in our backyard and we wanted to take advantage of that."
Ben Coats, LHS freshman, said he was amazed by the World War I museum. As a self-proclaimed "history nerd" Coats said he'd never seen anything like it before. He especially enjoys learning about the weaponry and equipment used during war. Throughout the process of preparing his project he said he'd done a lot of research.
"It's been very challenging to get everything going and together," he said.
But he's managed, and he said the most interesting facts he's learned so far deal with the chronology of the war. Discovering what events led to other events like a domino effect was interesting to see because he likes the complexities of war.
For Kayla Combs, LHS freshman, the trip to the museum had an emotional effect on her. She said it was sad to see the conditions of a trench where soldiers fought and especially to see a crater that was the remains of a building destroyed by artillery during the war.
"You learn about all that in class," she said, "but seeing this here makes it all real."