Teaching a variety of lessons
LMS

instructor brings unique life experiences to classroom
Editor's note: This continues a series introducing teachers who are new this year to the Lansing school district.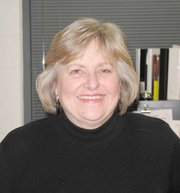 The teaching career of Konstance Jacob has taken a variety of paths over the years, but her journey now has led her to Lansing Middle School as the new eighth-grade language arts teacher.
Jacob not only has held teaching jobs in a variety of subjects such as history, drama and government, but she was also a flight attendant for TWA in the 1960s, a playwright and a producer in Hollywood.
It's these life experiences that Jacob said have made her the fun, energetic and passionate teacher she is today.
"I was born to teach," she said. "My passion and my love of the adventure of life I bring to the classroom."
Jacob said she believes her classroom should be a comfortable space where students feel free to think and dream. She welcomes the spontaneous and feels that by letting her students be free thinkers she opens the door for greatness.
She can remember one gloomy day recently as her students returned from winter break. The class felt down and discussion was limited, but all of a sudden a student stood up and started singing "Don't worry be happy." From this one act came a period of open discussion about real issues that Jacob said her students would have missed out on if she hadn't had such an open mind.
Jacob graduated from the University of California in Santa Barbara with a bachelor's degree in English and history. She then went on to California State in Los Angeles where she got her master's degree in theater directing.
Over time she's written and directed more than 30 plays, which is just the beginning of her passion for the English language.
"Language arts truly is the art of a language," she said. "It's a beautiful art that's not about grammar but the quality of expression."
Jacob said she believed that the expression of writing and verbal language is what carries students on through life. She said in her classroom she wants students to feel and discover the power that language can have.
While studying verbs, Jacob said she had her students stand up and "be a verb." She wanted them to feel an active verb and what it can do as part of their writing.
"There's such a difference that activity can make. We're visualizing things that are usually boring," she said.
And boring is never a word that Jacob wants used to describe any part of her life.
When she found out that she had to move to Leavenworth County for her husband Paul's business, she was excited to try something new.
The two bought a farm outside Tonganoxie and have since been taking on new adventures such as raising horses and soon cattle.
"It's all just been a hoot," she said with a laugh. "I have the most lovely life."
She loves the land for its beauty, and said she hopes she never takes it for granted. From the city to the farm, Jacob said this is just one more adventure in her life that makes her who she is.