Vikings top Lions in substate finals
Photo Gallery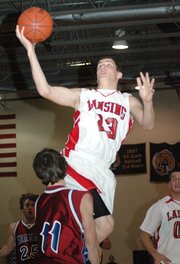 LHS boys fall to Seaman in substate finals
Kansas City, Kan. — The Lansing High boys basketball team ended its season Friday with a 48-32 loss to Topeka Seaman at the Turner High School gymnasium.
Seaman scored 15 seconds into the game and led the entire way. The Vikings led 16-9 after the first quarter and extended their lead to 25-16 by halftime.
"The first quarter we gave up 16 points; that's too many. But the second quarter giving up nine, right, that's good," second-year LHS coach Rod Briggs said. "That's what we want. But the problem is we just didn't capitalize and score enough ourselves."
LHS made just seven of 27 shots in the first half and didn't attempt a free throw.
Seaman used a 9-0 run midway through the third quarter to put the game out of reach.
Lansing never threatened down the stretch.
"We just didn't play as well as we needed to play tonight," Briggs said. "Seaman played very well. They made some tough shots when they needed to, and they did obviously a lot of things that were really, really good."
Lansing hit just 28 percent of its shots (16 of 57) and attempted just seven free throws. Seaman shot 44 percent (19-for-43) and made 16 of 21 free throws.
Bryce Simons led the Vikings with a game-high 16 points. Stephen Didde led Lansing with 12 points, Bobby Hauver had nine, Cody Rush had seven, Clayton Hall had six, Curtis Beall and Brian Beall had three apiece and Ryan Delich added two.
Lansing ended its season with a 15-7 record. Seaman improved to 11-11 and advanced to the Class 5A state tournament.
FOUR JUNIORS RETURN
Although Lansing loses an experienced senior class, Briggs said he believes the Lions can continue the progress they've made during the past two seasons as they improved from eight wins to 15.
"We've got four key guys coming back next year, so we want to continue to have a lot of success," he said.
Those key guys are juniors Cody Rush, Curtis Beall, Clayton Hall and Ryan Delich. All played major minutes for the Lions during the past two seasons, and three of them started for much of the past two seasons.
Rush, a 6-foot-7 forward, was Lansing's leading scorer (12.3 points) and rebounds (6.9 boards) this season. Beall, a two-year starter at point guard, averaged 3.2 assists and seven points per game this year.
KVL CAN IMPROVE
Briggs said he expects Lansing's success to continue next year, but he said he wants to see the Kaw Valley League improve as a whole.
"We've got to make that next step with our whole league," he said. "I kind of feel like our league needs to make that step and start beating Centennial (League) teams. We're still kind of the 4A mindset, we haven't made the jump to 5A in all of our sports. We are the lower end of it, and as soon as we start getting a few wins in everything we'll be in good shape. We're still just not quite there. We just don't have the numbers that they have. We're getting closer all the time, obviously."