A 'big' contribution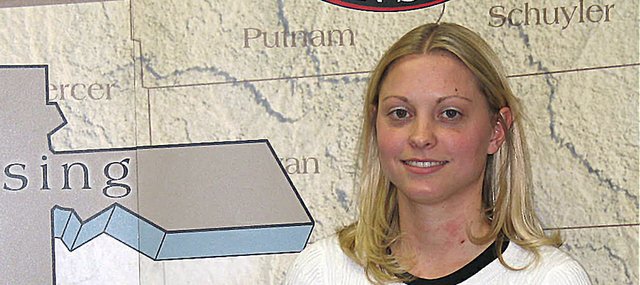 Aside from learning the ropes as Lansing's new assistant city clerk and planning for a June 14 wedding, Jen VerVoort and her fiance Mark Hazaert stay busy volunteering with Big Brothers Big Sisters of Leavenworth County.
"It's an amazing organization," VerVoort said. "They have a very active program in Leavenworth, and we're trying to bring it more to Lansing."
Big Brothers Big Sisters aims to give at-risk children in single-parent homes a positive role model in their lives.
VerVoort said it's as simple as volunteering one to three hours per week, doing everyday activities with a child such as washing dishes or going to the grocery store.
"The 'littles' just appreciate having normalcy," VerVoort said.
The Wisconsin native mentioned that a main focus of Big Brothers Big Sisters right now has been "Bigs in Schools," a program where high school students spend time with 'littles' during the school day.
She said it helps youths transition through the different levels of school and added, "It's just cool to have lunch with a high school student."
VerVoort made sure to encourage any interested Lansing resident to consider becoming a mentor and welcomed anyone to join in a bowling fundraiser April 13 and 19 at Skyway Lanes.
As far as why she became involved with Big Brothers Big Sisters, VerVoort said, "Especially being in the military, you can really see the toll it takes on a kid, not having a dad."
She and her fiance both applied and were accepted as a big brother and big sister, but, "With the military," she said, "it's kind of hard to build a relationship with a child and then have to leave, so we opted out."
Despite the temporary nature of Hazaert's work on post at Fort Leavenworth, VerVoort said she would eventually like to make Lansing her home.
"The city's been taking us under their wing," VerVoort said. "Everybody's been telling us where to go and where to eat. Everybody's been great."
NAME: Jen VerVoort
ADDRESS: Lansing
OCCUPATION: Assistant City Clerk
FAMILY: Mark, fiance
HOW LONG HAVE YOU LIVED IN LANSING, AND WHAT BROUGHT YOU HERE? "Since Aug. 29 : the military. My fiance's up at BCTP (Battle Command Training Program)."
WHAT DO YOU LIKE MOST ABOUT LANSING? "I really like the small community. Where I'm from it's 100,000-plus."
WHAT DO YOU DO FOR FUN? "Wedding planning every weekend. We like going out to eat and to the movies. And we're from Green Bay, so a beer every once in a while."
WHAT MIGHT SURPRISE PEOPLE ABOUT YOU? "That I'm on the board of directors for Big Brothers Big Sisters."
WHAT IS THE BEST ADVICE YOU HAVE EVER RECEIVED? "My dad always says, 'Kill them with kindness.' You can never go wrong with just that."
WHAT CLUBS OR ORGANIZATIONS DO YOU BELONG TO? Big Brothers Big Sisters of Leavenworth County, Society for Human Resource Management and five other human resource groups.