County begins
CR1

land acquisition process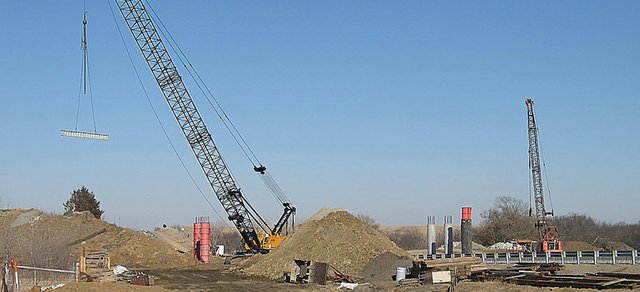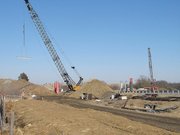 County staff is set to begin acquiring right of way from 58 parcels of land along County Road 1 leading to a proposed interchange with Interstate 70 in southern Leavenworth County.
In a 3-0 vote Monday, commissioners authorized issuing letters to affected property owners and confirmed the appraisal amounts that have been prepared.
The cost for acquiring right of way is not to exceed the budgeted amount of $1.03 million.
Public works director Mike Spickelmier said Monday that, after a meeting with Kansas Turnpike Authority representatives last week, it was determined that right-of-way acquisition would need to commence immediately in order to begin utility relocation along County Road 1 and to be ready to let bids for road construction this summer.
"We are at a time-critical element in respect to the project with right-of-way acquisition," County Counselor David Van Parys added. "We need to initiate this in order to stay within the project's (timeline)."
2nd District Commissioner Clyde Graeber was particularly reticent to approve a motion to proceed, saying he wanted something in writing from the Kansas Department of Transportation as to exactly how much the state is willing to contribute for a road connecting County Road 1 and U.S. Highway 24-40 and improvements on U.S. 24-40 itself before going ahead.
KDOT representatives have indicated a willingness to share in half of the cost of the difference between the original and revised cost for the tie-in, which will connect to County Road 1 just south of Honey Creek Road, but it has yet to be determined exactly how much if any KDOT will contribute to adding turning and deceleration lanes on 24-40 and realigning Honey Creek Road west of the highway.
Spickelmier said it was his understanding that KDOT would help fund those improvements or would at least help pay for materials there.
Graeber was less optimistic.
"They've agreed to participate in the cost of the new way linking County Road 1 to 24-40 but none of the additional costs for the improvement to 24-40 where the new exit joins into it," Graeber said, also noting that improvements to 24-40 were not reflected in figures presented Monday.
Graeber eventually supported a motion to proceed with right-of-way acquisition after a proviso that the commission would draft a letter to KDOT, reciting commissioners' understanding of what the costs are related to realignment, was included.
In a memorandum dated March 10, the total project cost including construction, right-of-way acquisition, utility relocation and contingency and inflationary costs was estimated at $14.39 million, although Spickelmier said that figure could change once bids for construction are released in June.
Until a contribution from KDOT is nailed down, the county's share of the project cost could fluctuate, but the latest figure put $11.46 million as the county's portion of estimated construction costs to be paid out of a voter-approved 1-cent sales tax.
Commissioner J.C. Tellefson said, to date, the county has expended roughly $1 million on the project and, with Monday's decision to proceed with right-of-way acquisition, that amount would jump to around $2 million thus far.
Tellefson said total project costs have risen from $12.96 million in June of 2006 to $14.35 million currently after adding the new alignment with engineering and redesign costs with U.S. 24-40.
At roughly a 10 percent overrun, he said those numbers were manageable.
"We're really getting into the finer numbers on this whole thing," Tellefson said, "and they're numbers we can be very comfortable with."
Van Parys said a development district along County Road 1 that would serve to recoup as much of taxpayers' investment as possible, would be worked out in the coming weeks.
In other business Monday, the board:
¢ Authorized, 3-0, the chairman to sign a fiscal year 2009 state-block grant application for funding for the Juvenile Justice Authority's 1st Judicial District, which covers Leavenworth and Atchison counties.
¢ Unanimously approved a special use permit for an electrical substation owned by Westar Energy to be located on the south side of Fairmount Road, west of 139th Street.
¢ Voted, 2-0 (Commissioner Dean Oroke abstained), to approve the final plat for a four-lot, 46-acre subdivision owned by Nona Meyer-Smith north of the intersection of Garret Road and 235th Street.
¢ Met in executive session with County Counselor-at-Large Keyta Kelly for 10 minutes to discuss personnel. Commissioners later extended Kelly's contract for one year at an annual salary of $73,095.
¢ Met in executive session for 10 minutes with director of juvenile services Bob Doyle to discuss personnel.
Doyle also reported an "outstanding outcome" from an annual inspection and audit by the Kansas Department of Health and Environment on Feb. 29.
Doyle said the state found no areas of regulatory noncompliance and noted the only violation was two staff members who were late getting their physical and annual assessment.