Johnson catches on at Benedictine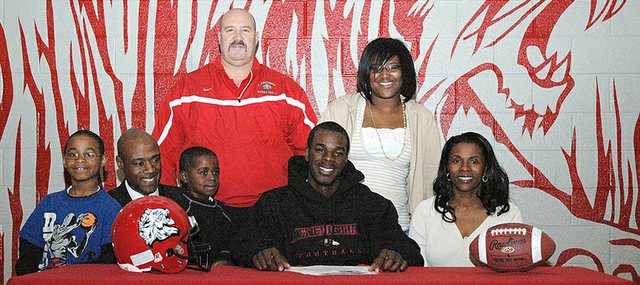 Kevin Johnson played just one season of football at Lansing High, but he made enough of an impact during his senior season to attract the eyes of college coaches.
On Feb. 7 he made his college decision official when he signed his national letter-of-intent to play at Benedictine University in Atchison.
"I'm really excited to go the next step and play at the college level," Johnson said. "I actually wanted to play basketball instead, but I first got my football scholarship and thought I might as well head that way."
A quick perimeter defender for the Lions during their 15-7 campaign on the basketball court, Johnson used his speed as a wide receiver for the football team. Johnson led the LHS receiving corps with 22 catches and six touchdowns this season and was second on the team with 371 receiving yards. He helped the Lions win the Kaw Valley League championship, post an 8-2 record and advance to the Class 5A state playoffs.
Johnson moved to Lansing from Maryland midway through the first semester of his junior year and was unable to play football. He'd played two years of varsity football at his previous school as one of the primary targets.
Even after the year off, Johnson proved to be a weapon. He was one of the Lions' top newcomers and biggest impact players.
"I didn't think I'd be as (good) as I was, coming into the program and not knowing the whole playbook," he said. "I think once I caught on and started learning the role I was supposed to do, I got better."
LHS coach Bill Pekarek said Johnson was made even more effective because he and 6-foot-4 senior receiver Stephen Didde gave the Lions a dangerous duo.
"We had the best of both worlds with those guys," Pekarek said.
Pekarek pointed to a catch-and-run by Johnson during Lansing's district opener against Shawnee Heights - a come-from-behind 14-11 victory - as an example of the impact Johnson could have on a game.
"He turned a simple quickie pass into a 20-yard touchdown," Pekarek said. "That helped us win that game and helped us be district champions."
Johnson credited LHS wide receivers coach Bryan Shelley with making him a better receiver and teaching him skills that would help him at the college level. Shelley spent a lot of time working with receivers separately during practice, and Johnson said Benedictine does things in similar fashion. That appealed to him.
"I just like how they're structured," he said. "They have the receivers in one set; they all work out together. They come with the team, but they're also separate and do their own thing."
Benedictine posted a 5-5 record in 2007.
"They're thinking (Kevin) can come in and make an impact right away and possibly get some playing time next year," Pekarek said. "That's a good deal."