Lansing teacher's memory lives on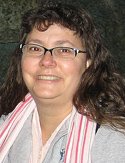 For Shelley Brammer, kids were her life.
She devoted herself not only to the students she taught at Lansing Elementary School for more than 14 years, but to her own three children and two grandchildren.
"She was a lot more than a teacher, a co-worker and a family member," said Nick Reynolds, Brammer's son. "She was everyone's best friend."
Brammer died Wednesday, March 5, after contracting influenza that later turned into pneumonia. The Lansing Elementary third-grade teacher was 53.
Reynolds said his mother hadn't been feeling well since the Friday before, but it wasn't until Tuesday when she began complaining of a pain in her left side that she went to the hospital. Her family, which in addition to Reynolds, consists of husband Duane Brammer, daughter Marcie Reynolds, and daughter Carla Garrison, were then told that she had pneumonia.
Shortly after, the family and the entire Lansing community lost a woman that Reynolds described as having a caring soul.
"The worst part is just thinking about the loss for all those kids," Reynolds said.
He said his mother lived to teach and was naturally good at it with her constantly kind, yet fun, attitude.
"We'll truly miss Mrs. Brammer," said Randal Bagby, Lansing superintendent. "We're very sorry for her family's loss."
Bagby said the school was providing counseling to the students and teachers who worked with Brammer on a daily basis. He said that Brammer was an integral part of the growth and development of Lansing schools and that her absence will be felt greatly.
Brammer grew up in the small town of Greenville, Ohio. She met her first husband during her weekly spiritual meetings at her Jehovah's Witnesses church, to which she was deeply devoted. She followed him to Kansas where she spent the rest of her life.
After a divorce, Brammer became a single mother who raised three children while working full time and attending night school to get her teaching degree. She eventually remarried and enjoyed 10 happy years with Duane Brammer.
"She definitely instilled a lot on incorruptible morals in us three kids about work and not getting side tracked," Reynolds said.
Reynolds said that he keeps picturing his mother, sitting in her rocking chair with her glasses, reading. When she wasn't with her grandkids, she was reading, he said.
She especially enjoyed the "Little House on the Prairie" series by Laura Ingalls Wilder. Reynolds said it reminded his mother of growing up on the farm and her fond memories of country living. Brammer covered her house in prairie memorabilia and painted many of her favorite quotes on the walls. Each year, she would also dress up in prairie attire for her students on Kansas Day.
When it came to children and teaching, however, nothing else was more important. Reynolds said that each year his mother would tell him that she had the best class ever and how lucky she was to be at Lansing.
She especially enjoyed the time she spent with her own grandchildren who both are 2 years old. Reynolds said Brammer spoiled her grandchildren and was always shopping for school supplies for them. She wanted to pass along her love of reading, and Reynolds said both are ready for the third grade, despite only being two.
"They already have a library of books," Reynolds said, thanks to his mother.
The saddest part for Reynolds is when he thinks about the students who will miss out on having Brammer touch their lives the way she did for so many others.
"I hope out of everything that they remember about her," Reynolds said, "they know how good she was with children and her love for kids."
A funeral was held Saturday, March 8, at the Kingdom Hall of Jehovah's Witness in Basehor. Reynolds said that a burial memorial would be held at a later date and welcomed anyone interested in attending to call Brammer's family at 913-422-1650.