Learning world cultures
High school students take trip to China, experience history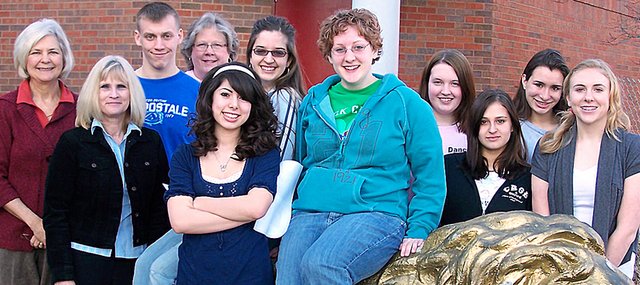 While many students will use their upcoming spring break to take some time off from learning, eight Lansing High School students and three teachers will be leaving for a two-week touring trip to China.
The students leave March 14 and will visit the cities of Beijing, Xian, Shanghai and Kaifeng to see historic sites and learn about the culture by staying with host families.
"I'm excited about staying with a host family," said Sarah Warren, LHS freshman. "We'll get more of an insight into their culture because we'll see it up close."
The students, which include Warren, Brian Snodgrass, Katelyn Oney, Elizabeth Lewis, Jennifer Snyder, Jessie Goertzen, Taylor Howard and Heather Cook, have been working since January on learning useful Chinese phrases. But for most, their interest in Asian countries goes back much further than that.
For Cook, LHS freshman, she started to learn about different cultures through her gifted class in middle school. She said she became fascinated with those studies, especially when it came to China.
"I thought it would be an exciting way to deepen my knowledge," she said about why she wanted to go on the trip.
She said she is most looking forward to staying with the host families. She said this would let her see the similarities and differences of teenagers who are on different sides of the world.
Cathy Smith, LHS art teacher, has been taking students from the high school on a similar trip, which is sponsored by the Friedman Foundation, Kansas University's East Asia Studies program and the Confucius Institute, for three years.
Back in 2002, Smith saw a flyer for a course area teachers could take from KU's East Asia program. The 10-week course would not only provide the teacher with knowledge about Asian cultures, but also materials to take back to students.
"It was one of the most excellent classes I've ever taken," Smith said.
She began using those lessons about Asian cultures when she did art projects with her students. One student found these lessons so interesting that he persuaded Smith to begin taking a group to China each year.
"(Students) really wanted to know more," she said. "It's not a regular part of the curriculum, so it was a good opportunity."
She hopes, however, that the more trips she takes with students will convince the school to incorporate more Asian studies into lessons. But for now she just hopes to make ties with a country that may be unfamiliar to many.
"These students are ambassadors, representatives of the United States," she said. "They may be the only Americans (the host families) ever meet."
Kathy Rey, a gifted facilitator going on the trip, said she thought it would be an important experience for all of the students.
"Their perspective of the world is going to change," she said. "They'll bring that back with them and hopefully impact their peers and family in how they view the world."
The group will visit famous sites such as the Great Wall of China, but they will also attend school with the host teenager they are paired with. The student, from each of the countries, can help each other with learning the language and sharing facts about their own home.
"I think that this will be an eye-opening experience," Rey said. "It will take them out of their small world and change the way they think."