Master of the Metro
Flynn dominates during wrestling showcase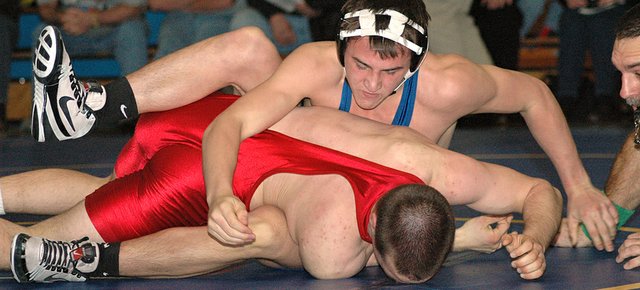 Photo Gallery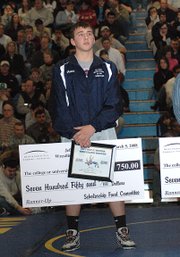 Nick Flynn at the Metro Classic
Nick Flynn paused mid-sentence when he spotted the young boy - maybe 8 years old - staring at him with an awe-struck gaze.
In one hand the boy held a program for the 16th annual U.S. Army Metro Classic Wrestling Dual. In the other was an ink pen. It was obvious what he had in mind.
Flynn smiled, flipped through the program until he found his profile, signed his name and handed the program back. The little boy grinned and then raced off to get a few more signatures.
"That was the first one," Flynn said with a laugh after inking his first autograph. "It's kind of cool that kids look up to us."
Flynn's signature should have been a hot commodity on Wednesday, March 5, after the dominating performance he turned in at the Metro Classic.
Missouri beat Kansas, 32-24, in the head-to-head dual. Kansas won six of the 15 matches. Flynn's victory - a 15-0 tech-fall of Richmond (Mo.) senior Wes Gorham in the second period - gave Kansas an 18-9 lead. Kansas dropped six straight matches after that, however, before Shawnee Heights' Atticus Disney won the final match of the night with a first-period pin.
Flynn gave Kansas fans plenty to cheer about during his time on the mat. A third-place state medalist at 152 pounds this year, Flynn and Gorham squared off at 145 pounds because of the seven-pound cushion allowed for the Metro Classic.
Flynn scored a takedown just 15 seconds into the first period. He rolled Gorham for a three-point near-fall and a two-point near-fall and built a 7-0 lead by the end of the period.
Flynn was on the attack again in the second period as he scored another takedown and two more three-point near-falls, the last of which came during the final second of the period and ended the match.
"I felt really good, and I had a super week-and-a-half of practice," Flynn said. "We've been in there every day busting our tails going at it, and I couldn't think of anything better to prep me for tonight. I felt like I was on my 'A' game. I felt like I just took it to him. I felt good."
Flynn credited his strong performance to the quality preparation he had during 10 days of training with the Kansas all-stars. All 15 Kansas wrestlers placed first, second or third at state, so the practice room had a college atmosphere to it.
"It is an incredible environment to be in," he said. "You've just got guys in there banging heads, and you're getting people mad at each other because there's so much tension in there. We've got guys like Phillip Henes (St. Thomas Aquinas) and Aldon Isenberg (Gardner-Edgerton) who just got back from wrestling each other in the state finals. I mean, you've got some heat throwing around in that room. It's a wonderful atmosphere to wrestle in."
Prior to wrestling, Flynn was introduced as one of five finalists for the Jeffrey C. Wicina Scholarship, worth $1,500. Flynn was selected as one of two runners-up for the award, and he received a $750 scholarship.
Flynn will wrestle at the NCAA Division I level next year at South Dakota State University, and his wrestling scholarship will cover about 30 percent of his tuition. He said the extra cash from the Wicina Scholarship would help.
"It does feel good to be noticed like that, and I was really happy that I got it," he said.
Flynn will compete in another showcase event at 7 p.m. Friday, March 21, when he wrestles in the USAWA East Kansas Senior Classic at the Kansas Expocentre in Topeka. Flynn will compete against Labette County senior Aaron Arb, the Class 4A state champion at 145 pounds.