Softball standout Chiles heads to Johnson County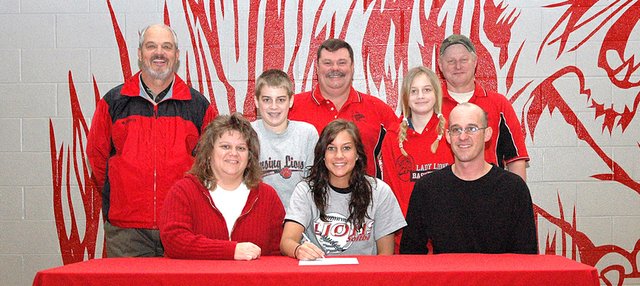 One of the most reliable members of the Lansing High softball lineup is taking her game to the next level.
Morgan Chiles, a varsity starter since her freshman year, will join the lineup at Johnson County Community College in the fall.
"I realized that all of my efforts were worth it," she said with a smile before signing her letter-of-intent.
Chiles' story began on ball fields throughout Leavenworth County as a five-year-old T-ball player. She began playing softball on a 10-and-under team coached by Rhonda Lang before moving on to the Leavenworth Twisters and Olathe Rockets club teams.
Chiles said she began dreaming of playing college softball around the time she was a freshman.
"I was probably 14 or 15 when I realized that there is college, and there is a possibility of me playing," she said. "I thought I could really achieve that goal someday."
She has spent the past few years at LHS working to attain that goal, and the Lions have benefited from her contributions.
In three years, Chiles has helped the Lions post a 41-22 record, win the school's first Kaw Valley League softball title and advance to state for just the second time in program history.
She has played a variety of positions in the process. She was a utility player as a freshman, helping out in the outfield and at catcher. As a sophomore she transitioned to third base to replace the steady glove of long-time starter Maggie Aus.
Chiles played both third base and shortstop as a junior, and she garnered All-KVL first-team honors while hitting .325.
After shifting throughout the field during her first few seasons at LHS, Chiles likely will stay put on the left side of the infield in 2008 because the Lions return their entire squad from a year ago. The 2007 team had no seniors, and coach Terry Cornett praised Chiles for taking on the role of the team's vocal leader.
Throughout her high school career Chiles has been a year-round athlete. She was a four-year member of the varsity basketball team, and she spent two seasons playing varsity volleyball - including as a member of the 2007 squad that set the program's single-season wins total, won an undefeated KVL championship and placed fourth at the Class 5A state tournament.
Through it all, softball has been her first love. Even when she was playing other sports, Chiles always made time for softball. She and LHS teammate Amanda Darrow routinely played Friday night basketball games and then hit the road for weekend indoor softball tournaments.
Indoor tournaments?
"Basically it's this gym, and they put a little net so (the ball) can't hit the ceiling, and you get some corners taken away," she explained. "If you want to hit a home run, you've got to hit it straight."
Chiles feels like she hit a home run with her college selection of JCCC. The Cavaliers are one of the top junior college softball programs in the nation on a yearly basis. They are a regular participant in the national tournament and have finished the top 10 in the national tournament 10 times. In 2007 they were the National Junior College Athletic Association Division II runner-up and posted a 46-14 record.
Chiles said she was attracted to Johnson County's record of success.
"I remember in their coaches' office they have pictures of All-Americans all over," she said. "That'd be pretty cool if that could be me."
Chiles also liked the fact that JCCC is only about 30 minutes from home. That will allow her family - always a presence at her sporting events - to catch most of her games.
"They're a big support," she said. "They go to almost every game that they can unless they're sick, and they support me in a lot of decisions I've made. Even if I didn't want to play softball I'm sure they'd be happy for me."
Although Chiles said she isn't certain that she will go on and play at a four-year school after two years at Johnson County, she said she wouldn't rule anything out.
"I don't think I would be able to turn it down if I got the chance to," she said.