Teacher passes on passion for reading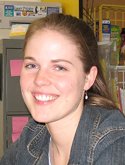 Editor's note: This continues a series introducing teachers who are new this year to the Lansing school district.
When it comes to reading, Kathryn Manthe can't think of anything more important that she would rather teach a child.
From an early age she loved reading and knew that one day she wanted be the person teaching it to children.
Now, as a new first grade teacher at Lansing Elementary School, she is finally getting her chance.
"Reading is everywhere," she said. "I don't think we ever realize how important it is."
Manthe, who is originally from De Soto, graduated in 2006 from MidAmerica Nazarene University in Olathe with a bachelor's degree in elementary education. She moved to Bonner Springs to be closer to her husband's family who is located nearby.
Before taking over a classroom of her own, she was a substitute teacher for a year and has loved it ever since.
"I pretty much love (teaching) even more than I thought I would," she said. "I love the kids. They're all so sweet."
Both of Manthe's parents were teachers, so she said she grew up with the idea in her head. She might not have been teaching for long, but she said she's enjoyed getting to know the students and settling into a natural routine.
"It's just incredible to see (the students') growth compared to where they were at the beginning of the year," she said.
So far, Manthe's time in the Lansing district has been positive, because she's gotten the chance to pass on her passion of reading to her students. When teaching, she said she uses a combination of phonics and sight words. Her students read a lot of books so that they will begin to recognize words as they progress.
Her goal for the year is to get the students reading at the highest level they can before moving on in grades. This means teaching them strategies for figuring out words on their own so they become independent readers.
"The younger they are, the easier it is for them to learn," she said. "I just want them all to be good readers and to be successful in the second grade."
In her spare time, it's no surprise to learn that Manthe spends most of it reading. She said she doesn't have a favorite book overall but that it's usually the one she is currently reading.
She is also active in her church, Elm Grove Baptist Church in Bonner Springs. One of her favorite activities, however, is working with the children's choir with Jacob, her husband of three years.
For now, Manthe said she could see herself staying in the Lansing district long term. But she did say that in the future she wouldn't mind trying out a different grade level.
"Kids are just all so different," she said. "They are great at any age."