County reviews workers' compensation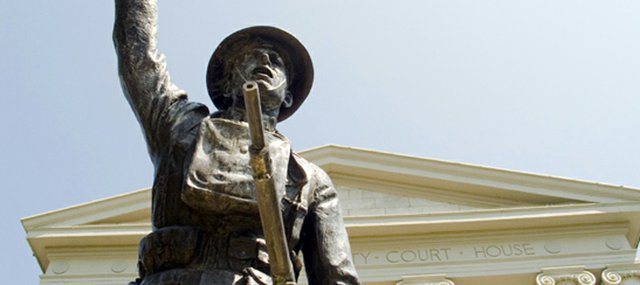 Consultants working for the Kansas Eastern Regional Insurance Trust (KERIT) reviewed Leavenworth County's worker's compensation coverage with commissioners in an open session Thursday.
According to John Charpie, director of sales and marketing with Overland Park-based Alternative Risk Services LLC, the county's premium in 2008 is roughly $410,000, up 4 percent from the previous year.
Charpie also noted that, because of "good service" and a favorable loss ratio, the county will receive about $74,000 or almost 20 percent of its premium back through partial dividends from 2002 to 2005 as well as maintaining a $344,000 equity balance.
The county will not receive reimbursement from 2006, however, because accident costs from those hurt on the job exceeded the 70 percent loss ratio threshold for reimbursement.
Charles Pirie, president of Safety InSight LLC, of Olathe, said that, with the exception of the anomaly in 2006, accident costs have remained fairly low but the total number of reported accidents even with no cost have risen.
Human resources employee and safety committee member Wanda Doty said, "As the safety committee, we're encouraging all department heads to report all incidents."
Doty said that would prevent employees from seeking coverage months after an incident occurs, adding, while a higher number of incidents may be reported, "Hopefully you'll see costs drop."
KERIT, formed in 1986 and comprised of Leavenworth County, Atchison County and 11 other cities in eastern Kansas, pools insurance premiums for worker's compensation and distributes claims accordingly.
In addition to dividend reimbursements, the organization offers other means of receiving discounts as well.
Municipalities can receive up to a 5 percent discount if they have a favorable experience modification, which reflects total number of claims and accident costs, and can receive an additional 5 percent discount if they participate in 10 different prevention programs.
Pirie said a great way to reduce premiums in Leavenworth would be to have greater participation in a Cooper Assessment, particularly in the sheriff's department where more accidents have been reported since 2005 than any other county department.
The Cooper Assessment would evaluate employees' physical capability of performing their job duties. Pirie assured commissioners that the assessment is not intended to be used as a performance rating and would not risk an officer's employment status in the way that a post-offer physical screening does.
He said that if 70 percent of the department participated in the Cooper Assessment, the county as a whole would be eligible for a discounted premium.
Pirie noted that Leavenworth County is only one of two municipalities in KERIT that does not meet the Cooper Assessment criteria, and he also added the cost per work hour for worker's compensation for law enforcement is twice the average KERIT-wide.
"(The Cooper Assessment) is the biggest thing I would champion going forward," Pirie said.
In other business Thursday:
¢Commissioner Clyde Graeber said he would join County Counselor David Van Parys in drafting a report on recently hired County Administrator Heather Morgan to alleviate any public concerns.
¢The board approved, 2-0 (Commissioner J.C. Tellefson was not present), a bid for a truck-mounted sprayer for the public works department at a cost of $9,233.75 from Olathe-based Sprayer Specialist. Commissioners also approved the purchase of a dump truck body at $10,437 from Kranz Equipment, of Kansas City, Mo.
¢The board met in executive session for five minutes with David Van Parys to discuss acquisition of property. Following the session, the board authorized, 2-0, Van Parys to negotiate a rebanding agreement with T-Mobile ® in regard to utilizing a frequency for emergency service personnel owned by T-Mobile.
In business Monday:
¢Van Parys briefed the commission on a possible bond issue that would finance improvements to County Road 1 and other targeted capital improvements in the county.
Van Parys said the clerk's office received five responses from a recent request for proposals from investment bankers, all of which, he added, "are eminently qualified."
The counselor said he anticipates the county will issue general obligation bonds up to $18 million, to be paid for out of the voter-approved one-cent sales tax that runs through 2016.
He further noted that a countywide communications upgrade also mentioned as a probable expenditure of sales tax revenue would likely be paid for by a lease-purchase agreement with the Kansas Department of Transportation, thus, taking advantage of the state's "increased borrowing power."
Included in the bids were quotations of fees ranging from $6,500 to $18,000, but not included were other elements like payment for consultants and underwriters estimated by Van Parys at 1 to 1.5 percent of the total amount of the bond.
Van Parys also said each bidder would be subject to an in-depth qualitative review.
He did not enumerate on what capital improvements could be funded by the bond, but a memorandum from public works director Mike Spickelmier dated September 2007 listed work on County Road 8 (Fairmount Road) and County Road 5 (Tonganoxie Road) as proposed sales tax projects.
As far as a timeline for when money needed to be in the bank, Van Parys said mid-May would be a good target, so that construction on County Road 1 could commence shortly thereafter.
"There's a lot of work that goes into putting a bond to issue," he said, suggesting the commission readdress the issue sometime next week.
Commissioner Graeber instructed the board's assistant county clerk put the item on the board's agenda for Monday, March 24.
¢Emergency management director Chuck Magaha reported back from a meeting with representatives from the county's fire districts where a U.S. Fire Administration grant was discussed.
According to Magaha, the "very competitive grant," if procured, could translate into over $650,000 with a 10 percent match from the county for necessary improvements in regard to the county communication system.
He said the grant would help foster interoperability like that achieved in Buchanan County, Mo., through federal funding.
The deadline for a grant application is April 4.