Army branches collaborate on military exercise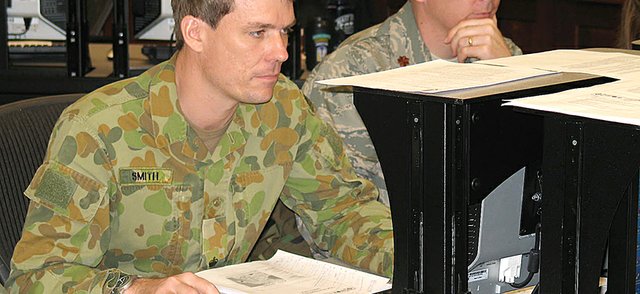 Officers with all four branches of the United States Armed Forces, international officers and civilian and government officials participated jointly Tuesday in the largest intermediate-level interagency military exercise of the year.
The six-day exercise, with approximately 550 participants from Fort Leavenworth's Command and General Staff College along with the Air Force Command and Staff College at Maxwell Air Force Base in Alabama, was the culmination of a Joint Advanced Warfighting Studies (JAWS) program that began last year for CGSC students.
According to Brian Gurling, a professor in the CGSC's Department of Joint, Interagency and Multinational Operations, it gave Army officers in mid-career a unique opportunity to collaborate with air, maritime and special operations forces that will prepare them for future experience in the field.
"It's a pretty robust exercise," Gurling said Tuesday. " : More and more in our operations, staff have to work with the interagency and other agencies, so we're trying to foster that."
The setting for the JAWS exercise was the Transcaucus region of Georgia, Azerbaijan, Armenia and Turkey, where a fictitious force is threatening to invade a host country that has asked for international assistance.
Gurling said although the scenario was not real, the geography of the region was.
"We purposely chose an area the U.S. Army was unfamiliar with," Gurling said, noting, however, the importance of using a real-world application for the exercise.
The overall goal of the simulation, Maj. Betsy Atherton, a public affairs officer at the CGSC, said, was deterrence - to insulate the country against external aggression but also to build up the country's defense against an internal insurgency.
A classroom in the CGSC served as the headquarters for one of three joint taskforces, with the air component of the exercise being handled remotely by officers at Maxwell Air Force Base using collaborative tools like videoconferencing, telecommunications and Army Web chat software.
Public affairs officer, Maj. Cathy Wilkinson, said, "It's a challenge trying to do such an exercise without having them right next to you," but she said that was generally what would occur in the field.
Wilkinson noted that, ordinarily, an officer would be briefed for months before being deployed to an area like Iraq or Afghanistan, but, in the JAWS simulation, officers had the added challenge of dealing with unfamiliar terrain and a lack of stable roads and infrastructure.
The joint taskforces were required to formulate and carry out a plan that would be most effective from a militaristic standpoint as well as for the affected country, while taking economic and diplomatic considerations into account as well.
Representatives from such agencies as the U.S. Department of State, FBI, U.S. Agency for International Development and International Red Cross were on hand for the exercise and assisted the interagency and multinational taskforces.
"Just having come from a year in Afghanistan, this is how we fight; this is how we work," Atherton said of the collaborative effort, adding that, obviously, there are lots of things in theater that cannot be replicated in a classroom.
"(The exercise) is excellent; it's very challenging," said Maj. Chris Smith, an officer with the Australian Army. " : It's a reflection of what you'd experience in the field, and it's pretty realistic, too."
Smith said the exercise would give him "an understanding of American procedures, which are not too dissimilar to what we experience in Australia."
Maj. Mike Smith, an officer from the Maxwell Air Force Base emphasized how important collaboration between all military personnel is when fighting a war.
"If you don't know what the other three branches are doing, than you're losing one component," he said.