Father honors 'dad role' despite long absence during deployment to Iraq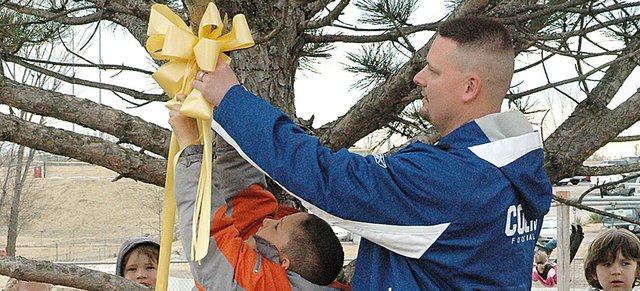 Sgt. 1st Class James Watson never stopped being a father even though he's been away from his family since June 2005.
Despite his absence, he stayed involved in his children's lives and made sure they were always reminded just how much they meant to him.
So when it came time to return home, Watson said he naturally slipped right back into the place he belonged and made sure others knew it too when he visited Lansing Elementary School Thursday, March 13, to cut down the yellow ribbon his son, Andrew Watson, had hung. Andrew's classmates welcomed Watson with a message of thanks for being a hero.
"I'm just doing what I'm supposed to do," he said. "But if looking at me like I'm a hero helps keep (the students) on the right path then I'll accept that. I'm just a dad doing what I need to for my family."
Watson came home with about 150 other soldiers of the 705th Military Police Internment and Resettlement Battalion to a packed complex Feb. 19. Watson's formation was one of the last to make its entrance into Fort Leavenworth's Harney Sports Complex. When he finally took his spot, he remembered looking straight ahead to the top of the bleachers and seeing his family - wife Teresa, and sons Christian, 11, Benjamin, 10, and Andrew, 7 - waving a banner.
"At that point I just thought, 'I'm glad to be home,'" he said.
When he actually got to his home in Lansing following the ceremony, he went right back into his fathering role by putting his children to bed. He said it felt natural, like he'd never taken a break.
Watson first went to Cuba in June 2005, where he spent a year working in detainee operations at Guantanamo Bay. He was able to come home in October 2006, but quickly left again that November, this time headed to southern Iraq.
Leaving is not something that Watson enjoys, but he admitted that in his 14-year military career, it's something that all of his family has had to learn to deal with.
"It's rough, but you know you're doing it to better your family," he said. "It makes it not as hard to leave."
Watson said he kept a close watch on his family even though he was so far away. Through weekly phone calls or e-mails he made sure he was up to date on the happenings of each of his children.
For each birthday and Christmas that he missed, he made sure to order presents online to be sent to his children. By doing his own shopping and not relying on his wife, he said it was important to him that his children see that he was an active part of their lives.
Like many soldiers who are forced to leave behind children, Watson said it was the family members that picked up the slack that made his work possible. Watson said that his wife of 12 years, who also is in the military, was tough and kept the family moving forward.
"None of it could have been done without her," Watson said of his wife. "She never let anything drop. She took the reigns and made things a lot easier for me."
But family wasn't the only piece of home Watson missed during his long absence. Television commercials fell right behind his loved ones. It may seem small, but Watson said when he's only been watching military TV for the last couple years, seeing a regular commercial is definitely something that'll bring a smile to his face.
When Watson got to Iraq and started working at the largest detention facility in the country, he said some changes needed to be made. Instead of focusing on control and custody, he said his troops began to look at how they could improve the prisoners' lives.
Many prisoners were taught to read and were given video telecommunication time so they could keep in contact with family. Because of this new focus, Watson said behavior improved from at least one disturbance every night to none since May 2007.
"I really do feel like we made a big difference," he said.
Even with his dad-duties continuing at home, Watson took on 22 more "children" during his deployment. Being a platoon sergeant meant that he was responsible for the solders under him and with that came a bigger "dad role" than he'd ever thought he'd have.
"I stepped into that dad role for them and helped solve their problems," he said.
Now that he's home, however, Watson still has one thing he wants to do. He's been thinking about Famous Dave's Legendary Pit Bar-B-Que and said he can't wait to finally fulfill that craving.