Jensen ready to play at
NCCC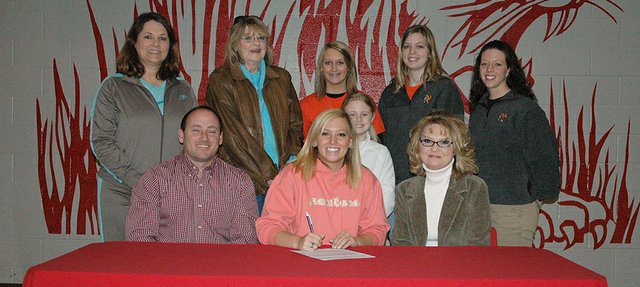 Moments before signing her national letter-of-intent, Kristen Jensen looked at her family and friends and giggled.
"I'm going to college!" she said.
Then, she made it official with the swipe of a pen.
Jensen, a Lansing High senior, will play volleyball next year at Neosho County Community College.
She still has a few weeks left of high school, but Jensen can't wait for the next step to begin.
"I want to play. I want to go to college right now," she said. "If I could, I would go right now."
Jensen's eagerness to play shouldn't come as a surprise to anybody familiar with her high school career. She entered the program at LHS with high expectations, and she took over the primary setting duties on the junior varsity by her sophomore season. Coaches were considering moving her up to the varsity for the postseason, but disaster struck late in the season when she blew out her knee. Her season was over, and she spent the remainder of the team's matches camped out on the bench with her leg in a bulky brace.
"I never got off the court, so then seeing everybody else play (while sitting on the bench) was a real shocker to me," she said.
The time off wasn't spent relaxing. Instead, Jensen endured a nearly year-long recovery and rehabilitation process.
"I feel like it made me stronger," she said. "Most players get burned out after a while, but I'm not (burned out) because I had that resting time. I had that season off, so now I'm ready to go for a few more years."
Jensen returned for her junior season. She played a reserve role for the Lions, but she lacked the same mobility she'd had prior to the injury and she didn't have complete confidence in her recently healed knee.
Lansing posted a 26-10 record and lost in the substate finals that season. As far as Jensen came since the injury, she was motivated to do more.
"When we lost, I said I do not want my senior year to be like that," she said. "So I went to play club, and I worked out every day and they pushed me a lot harder than I had been working. I had to rely on my knee more."
Slater said Jensen's commitment was evident.
"She just worked incredibly hard and made herself a much better player," Slater said. "It's because of her drive and desire and passion for the game."
Jensen came into her senior season in the best shape of her life, and she'd improved her all-around skills to peak levels. She parlayed her offseason training into a dominant senior campaign. She was the Lions' team captain, and she led them to an undefeated Kaw Valley League championship, a 40-5 record - the most wins in school history - and a fourth-place finish at the Class 5A state tournament.
"She really was the glue, the leader and the one that always held things together and ran the show," Slater said. "She was a great leader, a great setter, just everything you want in a player."
Jensen earned All-Kaw Valley League first-team honors. She set a program record for most good serves in a season with 439, had the second-highest season points total with 278 and had the third-highest season marks for serving percentage (98 percent), total sets (1,132) and assists (574).
Jensen credited her success to the caliber of players surrounding her on the court.
"You pray for a team like that," she said. "I wish we were still playing. I miss practices. I miss the girls. I miss everything."
Late in the season, Neosho coach Lindsay Sowder scouted a few of Lansing's matches and liked what she saw. She signed 2007 LHS graduate Riann Deere, so she already knew the Lions' program well.
Sowder said she was pleased to add another Lansing player to the roster, and she described Jensen as "one of our bigger recruits."
"We try to go after kids that come from successful programs to help make a great college program," Sowder said. "We have a sophomore setter that started for us last year, but I told Kristen we need somebody that can play defense as well, and we're looking for her to take over the reins her sophomore year for good."
Jensen was recruited by a number of schools, including NCAA Division I Cornell University. She said she decided on Neosho because she had the opportunity to play right away. She also liked that it was close to home so her family can watch her play.
Jensen added that the competitive atmosphere at Neosho and the way Sowder runs the program were appealing. The combination of factors made her decision easy.
"You know, you hear people say 'when you go there you'll know.' It's like that," Jensen said. "It's so crazy. I never figured I'd be that person; I'm always the one stressing out. But I went there and I was like, 'hmm: this is nice.'"