KVL

lauds Lansing's Rush, Hauver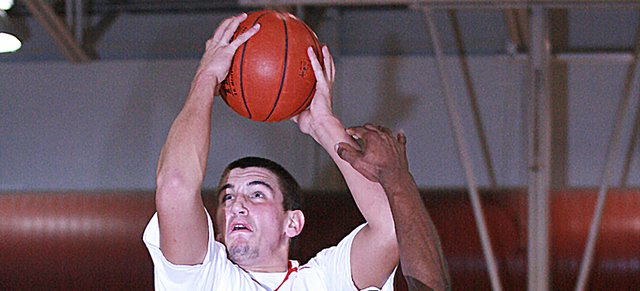 Two of Lansing's top all-around performers were among the top boys basketball players in the Kaw Valley League this season.
Junior Cody Rush and senior Bobby Hauver were named to the 13-player All-KVL first team.
"They both had tremendous years, and both stood out in a number of areas," second-year LHS coach Rod Briggs said.
Basehor-Linwood senior Tanner Swafford was a unanimous first-team pick and the league's Most Valuable Player. Rush, a 6-foot-7 forward, was third in voting.
Rush was dominant at times during the season, but he was at his very best during a 54-51 victory at Mill Valley as he poured in a career-high 22 points.
Rush averaged team-highs of 12.3 points and 6.9 rebounds. He made 49 percent of his shots, and he showed some range by knocking down two three-pointers. He also hit 83 of 122 free throw attempts for 68 percent and was second on the team in blocked shots with 10.
Briggs said he noticed dramatic changes in Rush between his sophomore and junior seasons.
"I noticed maturity physically, emotionally and mentally," Briggs said of Rush. "He really worked hard this year, and you could tell he was having a lot of fun."
Briggs noted that Rush's scoring average improved during league games, and that he became a more productive rebounder late in the season.
Rush's advantage was his size, but Hauver's strength was his all-around athleticism. He built off a breakthrough football season at quarterback by developing into an on-the-court leader for the Lions at both ends of the floor.
Hauver was second on the team in scoring at 10.3 points per game, and he shot a team-best 37 percent from three-point range (16-for-43). His 3.6 rebounds average was third on the team, and he led the Lions defensively with 47 steals.
"Bobby is a matchup problem for other teams because he has a lot of size and length, and he's just now coming into his own athletically," Briggs said. "I think in just about any sport Bobby will be a tough matchup because he's such a true athlete."
Hauver led LHS in scoring eight times, and his most complete game came in the championship game of the Tonganoxie Invitational when he scored a career-high 22 points to go along with five steals as Lansing routed Atchison, 80-56.
Although Hauver put up a lot of big offensive games, Briggs said he was most pleased with Hauver's commitment to defense.
"Bobby usually guarded one of the best guys on the other team, so averaging two-and-a-half steals was really impressive," Briggs said.
All-KVL team
First Team
Name School
Tanner Swafford Basehor
James Cox Ward
Cody Rush Lansing
Shane Gimzo Perry
Chandler Schaake Basehor
Kyle Morgison Perry
Caleb Smith Mill Valley
Gabe Belobrajdic Tongie
Jay Burns Ward
Bobby Hauver Lansing
L.T. Lee Bonner
Joel Gantz Perry
Duane Smith Piper
Honorable Mention
Max Carroll Mill Valley
Robbie Mason Piper