New gym brings fitness to Lansing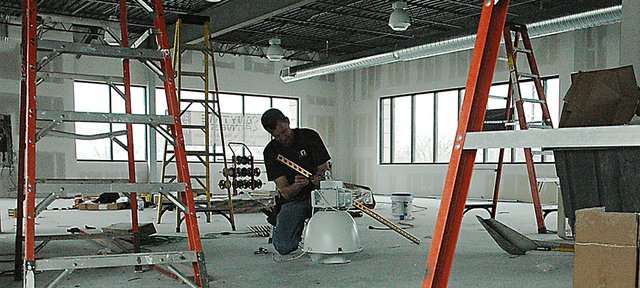 When it comes to working out, finding the time seems to be the hardest hurdle to get over.
But a new gym coming to Lansing wants to change that with their motto, "Get in, get out and get on with your life."
Anytime Fitness will be opening its doors at the corner of Kansas Avenue and Main Street in the coming weeks to Lansing residents who are looking for a gym that follows a timetable that fits into their schedule.
"Nothing beats the convenience of a 24-hour fitness club," said owner Chad LeRiger in a press release. "On your way to or from work, while your kids are at soccer practice or during your lunch hour, everyone can find 30 minutes a day, three or four times a week to work out."
Dave Johnson, who will be the manager of the Lansing gym, said he was looking forward to joining the Lansing community.
"Lansing just has such good growth," Johnson said. "And they are in need of a gym like this."
Johnson's goal is to promote a healthy lifestyle while giving members the convenience they need. The gym will be open 24 hours for all members, which Johnson said works perfectly for those people who have to be at work early in the morning.
Staff will be available during the day, and at night members will have a card to get into the gym to work out on their own. Johnson said several safety measures were being taken to ensure members stay safe even when alone in the gym.
Several surveillance cameras will be installed throughout the gym to prevent theft and other criminal activity. Members also will have the option to wear a necklace that has a button that will automatically call the police should an emergency occur while they're alone.
Johnson said already Lansing residents were contacting him and LeRiger to become members. He said he thinks it shows that Lansing is in need of a new gym that allows people to get healthy on their own schedule.
"Fitness is a lifestyle," he said. "Staying healthy should be a big part of everyone's lives."
Anytime Fitness, Inc., was founded in 2002 and nearly doubled in size from 308 clubs to 604 clubs last year. LeRiger, who also owns Anytime Fitness in Gretna, Mo., said that January through April were the biggest months for people to join gyms because of New Year's resolutions.
"Our new members tell me they are excited because we're open 24 hours a day, we have great exercise equipment and we're reasonably priced," he said. "Perhaps even more important, we have a friendly, supportive staff."
For a limited time, LeRiger is offering new members of the Lansing gym 100 percent off the initiation fee and a discounted monthly fee.
For more information, contact LeRiger at (402) 916-9111.