Police no longer will carry own guns
Council approved purchasing Glocks for entire force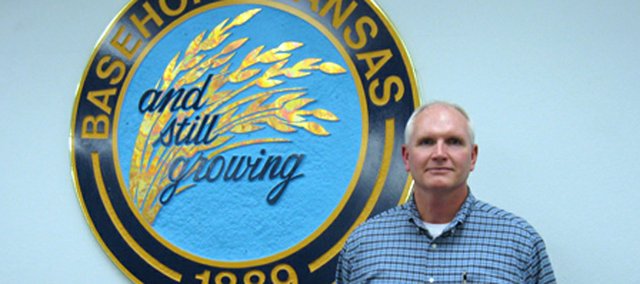 Basehor police officers will all soon carry the same handgun.
While department issued weapons may seem like a given for police forces, up until now, Basehor, like other smaller departments, often had to rely on the officers' personal weapons to serve them while on duty.
"In our department alone, I think we had at least four different guns being used," Basehor Police Chief Lloyd Martley said.
Basehor city council members approved the purchase of 21 Glock 22 and 23 .40 caliber semi-automatic handguns Monday evening after a presentation by Martley. The 22 and the 23 are the same, except the 23 has a smaller frame to better suite officers with smaller hands, Martley said.
The idea to go to department issued weapons was set in motion by former police chief Terry Horner, who received approval to budget $11,080 for the weapons last year.
"The main reason this wasn't done a long time ago was the expense," Martley said. "The department was never at the size to warrant the cost. Because of our size now, we were able to budget it last year for this year."
The appeal of department issued guns is threefold safety, reliability and ease of maintenance. Martley said the Glock has a safe trigger system, which prevents the pistol from firing if bumped or dropped and malfunctions will be minimal because of its low maintenance reputation.
In addition, a certified Glock armorer works part-time for the department, allowing repairs and adjustments to be performed on-site, cutting down on time and cost.
Having each officer use the same weapon allows for interchangeable magazines and ammunition, Martley said. It was also mentioned that the Glock is accurate and has the highest round capacity.
"More police departments are using these weapons because of the dependability and the reliability," he said. "It's a very low maintenance type of weapon."
While the original plan called for purchasing only 16 weapons because eight Basehor officers already carry Glocks, city council members said the entire force should be equipped with department owned weapons. Officers will also receive department issued Xiphos NT lights and Blackhawk Serpa level 3 holsters along with the handguns, making the cost $580 per officer.
The original quote of $10,600 increased to $12,180 with the five added Glocks, but Martley said this is feasible and within the department's overall budget. He said he will meet with City Administrator Carl Slaugh to determine additional funding.
All officers will be recertified with the new weapons most likely during range training in May, Martley said, which will also contribute to the safety factor of having department issued guns.
"We know the quality and the condition of them, we service them, we control them," he said. "Any officer that comes on from this day forward will be issued a city standard weapon."