Riding eco-friendly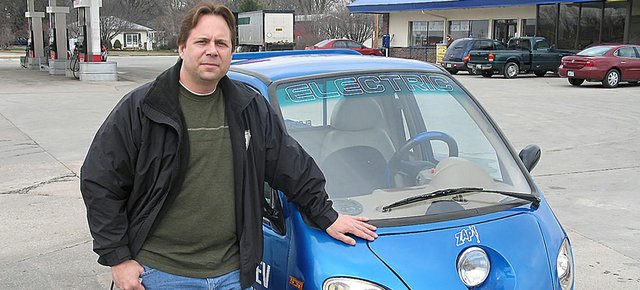 You might not hear him wiz by you on the street, but you'll definitely take notice.
"It's like being in a parade every day," Mark Higley said of the reaction he gets driving around Lansing and Leavenworth in one of his three-wheel, completely electric vehicles.
Like something you'd imagine driving through a Chinese marketplace, the 72-volt, 1820-pound mini-trucks and sedans Higley sells commercially have no tailpipe and no gasoline engine - just a plug where the gas tank ought to be.
"You can plug it in anywhere you can plug in a lamp," Higley said.
The vehicles rely on six, deep-cycle batteries and an electric motor. Higley said each charge lasts for roughly 25 miles of driving before needing to be charged for a couple of hours.
Top speed is about 40 mph, so while the vehicles can't be taken on the highway, Higley said, "It's enough to get you around town."
And with no oil changes and no regular maintenance, Higley said the only costs are replacing the batteries every so often and paying the electric bill.
At approximately four cents a kilowatt hour, Higley said it costs him about a dime a day to "fill up," and for him, that's a lot more manageable than paying over $3 per gallon at the gas pump.
The vehicles that Higley sells, built by Santa Rosa, Calif.,-based ZAP Manufacturing Inc., go for $11,900.
Aside from the decreased strain on his pocketbook, Higley said the two other reasons he went electric were to reduce American reliance on foreign oil and because of environmental concerns.
"And it's just so American," Higley added. "We have all the tools here to do this. We have coal in this country, and we have wind, and we have solar : It's just ridiculous that we don't do this."
Higley has sold electric vehicles to customers nationwide over the past year-and-a-half through his Leavenworth-based company, Midwest EV. But he said that these vehicles "don't work for everybody."
NAME: Mark Higley
ADDRESS: 255 Fairlane St., Lansing
OCCUPATION: Musician and electric vehicle dealer
FAMILY: Buffie, wife; Amber, 13, daughter; Alex, 10, son
HOW LONG HAVE YOU LIVED IN LANSING, AND WHAT BROUGHT YOU HERE? "About seven years : my wife is from here, and the schools are excellent here, so we stayed."
WHAT DO YOU LIKE MOST ABOUT LANSING? "The schools - that's the big thing. And the parks are coming along quite a bit."
WHAT DO YOU DO FOR FUN? "We like to go to the parks when the weather's decent with the family."
WHAT MIGHT SURPISE PEOPLE ABOUT YOU? "I'm a electric vehicle dealer, and I play in a disco band. Yeah, I'm pretty surprising."
WHAT IS THE BEST ADVICE YOU HAVE EVER RECEIVED? "Don't sweat the little things."
WHAT CLUBS OR ORGANIZATIONS DO YOU BELONG TO? Disco Dick and the Mirrorballs; Mid-America Electric Auto Association