Student spells her way to state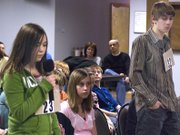 Rachael Koone will never misspell the word "triduum" again.
It was that word, which means the three holy days from Maundy Thursday through the vigil of Easter which focuses on Christ's passage from death to life, that caused the Lansing Middle School seventh-grader to fall in the seventh round of the Kansas state-wide spelling bee.
After spelling her way into the top three Lansing students and then the top one Leavenworth County student, Koone set her sights on her next challenge against 69 of Kansas' best spellers.
She and her mother woke up early the day of the Sunflower Spelling Bee and headed for Great Bend. She registered and participated in a practice round to warm up. When the competition started, all the students took to the stage under bright lights, but Koone said she never felt nervous.
"It was a very long day. I was too tired to be nervous," she said.
When it came to her turn, she walked to the microphone and waited for the pronouncer to give her the word. "Triduum," he said. After giving it her best attempt, Koone was forced out of the competition with only 12 contestants left, but she has no regrets.
"I'm feeling pretty good about it," Koone said. "It's a long way, and most people don't make it that far and I'm pretty proud of myself."
Koone said she's always been a good speller. She doesn't have any special tricks and admits to not studying for her competitions, but she said, "most words sound like they're spelled," which seems to have taken her far.
Susan Murphy, LMS teacher and spelling bee coach, said she was sure that Koone would make it as far as she did.
"I was confident in her," Murphy said. "She a very good speller of difficult words."
As the coach, Murphy said she encourages her students to read a lot and go over a study guide that is provided to them. She said learning the origin of words and the patterns that go along with those origins is the most helpful. This helps students make connections and gives them clues should an unfamiliar word come up.
Most importantly though, Murphy said she tells her students all the time, "Think before you speak." In a spelling bee, she said, a contestant can't take back a letter they've said, so it's important to be sure before speaking.
As a first-year spelling coach, Murphy said she couldn't be happier with Koone's success. She said she was proud of what she accomplished as a seventh-grader and couldn't wait to see what happens next year.
"She's very deserving," Murphy said. "She's got the natural ability and the composure to respond well to pressure."
Koone also has already set her sights on next year's competitions. She said she plans to study a lot more because she thinks it will help her reach her ultimate goal.
"I would like to make it to nationals," Koone said. "This year I was really close but I want to get further than that."